Review: Polycom RealPresence Trio 8800 Brings Stellar Sound to Conference Calls
Healthcare organizations can reach out to remote employees and disparate locations with clarity and security.
Provider organizations with remote workers and multiple locations often rely on teleconferencing to keep in touch. Clear communication is important, especially when discussing sensitive situations or during emergencies.
The Polycom RealPresence Trio 8800 Voice over IP speakerphone can handle the needs of healthcare organizations of all sizes, providing services and functions that create a complete conferencing system.
With extra accessories, software and VoIP systems, the RealPresence Trio 8800 can even become a video ­teleconferencing unit with whiteboard functionality.
MORE FROM HEALTHTECH: Arm yourself with the right info to stay HIPAA-compliant in the cloud.
Meeting Access Made Simple for Providers
The professional-looking unit features a 5-inch, easy-to-use color touch-screen interface that's clear and logically configured — I didn't need to read the manual to set up and connect the phone.
Through the touch screen, users gain access to all the standard VoIP features, including integration with call lists and contacts from enterprise systems such as Microsoft Exchange.
Setting up meetings is simple: With Exchange integration, scheduled meetings can get started with one touch of the join button, resulting in fewer mistakes and quick starts for every meeting. When it comes to sound quality, the RealPresence Trio 8800 is superb, noticeably better than average at both sending and receiving. It does very well at suppressing the kinds of dropouts and background noise common to VoIP phones.
The microphone picks up sound as far away as 20 feet, and the system includes a bass reflex port in a group audioconferencing solution, which preserves the ability to hear lower-frequency sound, in addition to rich multi-media audio.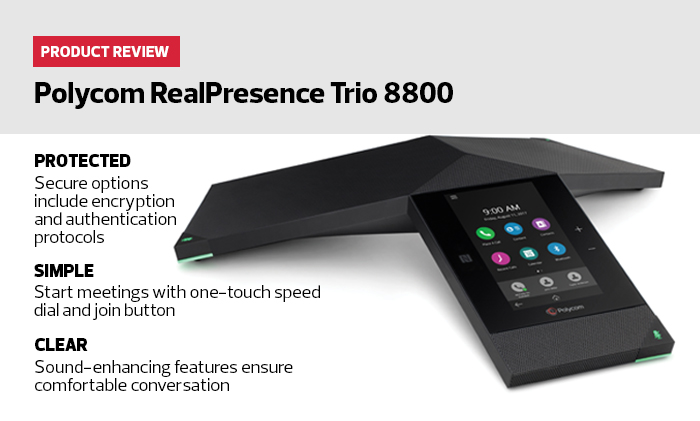 The phone can connect to three ­different platforms at once and also can work as a speakerphone for cloud-based conferences. Users can easily share high-definition content from personal devices once they've been verified.
Calls Are Easy to Join with the Polycom RealPresence Trio 8800 
People in other locations can join ­meetings via soft clients using PC-based software by clicking on personal contacts or through calendar meeting invites or the web. The system can set up five-way conferences with other phones or soft clients. Both wired and wireless networking are available, including Bluetooth and near-field communication for interfacing with mobile devices. The RealPresence Trio 8800 comes with several forms of Wi-Fi encryption, as well as HTTPS secure provisioning and media encryption via Secure Real-Time Transport Protocol.
Overall, the clarity of sound is fantastic, and the features are exceptional and easy to use. This is a solution that can meet the needs of healthcare organizations small or large.
Take Calls on Skype for Business
Not only does the RealPresence Trio 8800 have great sound quality, it also acts as a smart hub for group collaboration. The Trio 8800 brings easy-to-use, full-featured visual collaboration, including videoconferencing and whiteboard functionality. It's also the first conference phone on the market certified to work with both Skype for Business and Office 365 Cloud PBX.
This model and other Polycom phones can be managed and provisioned using Polycom's RealPresence Resource Manager, which offers management and scheduling of conference calls and video calls, as well as network management.
The system is built on the broad Open SIP call platform for interoperability with most major platforms, including Microsoft Lync 2013 and RealPresence Platform. This also allows the phone to interact with users' calendars to set up conference calls, and adds communication functions for sharing live or recorded video, images and more.