Although the project came together quickly, there were several key steps involved. Led by IT, the team also included marketing personnel and the facilities management group, which has all the up-to-date maps of the facility.
"When you put those maps into the app, they look like architectural renderings," Landis says. "Working with our facilities and marketing teams, we made the labels and map renderings more consumer friendly."
Before the app building began, serious legwork was required to hang approximately 3,000 beacons across the campus. "We conducted multiple walkthroughs to make sure we had everything right," Landis says. "Even if you think you have beacons in the right places, you have to double- and triple-check. We literally walked miles and miles of the campus to make sure we didn't have any dead zones."
DOWNLOAD: Learn more about what next-generation technology will mean for patient engagement — and outcomes.
Wayfinding Boosts the Patient Experience
Like Atrium Health, Saint Luke's Hospital of Kansas City in Missouri turned to Aruba Meridian to build its wayfinding app in 2017. The app complements kiosks and interactive displays throughout the complex, but also can consolidate and launch multiple apps, including virtual visits and access to the patient portal.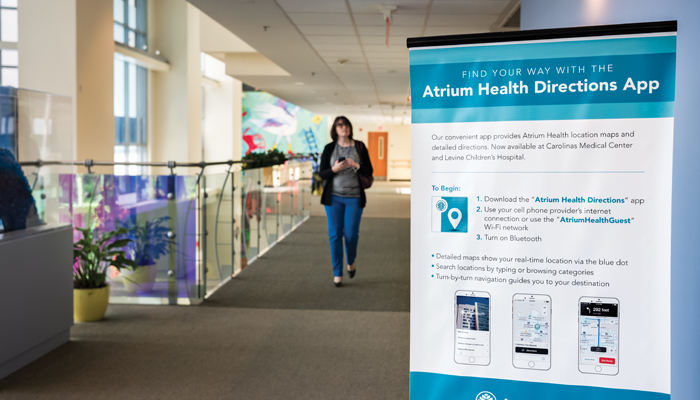 Atrium Health's IT staff worked with its facilities and marketing teams to ensure map renderings on the app would be consumer friendly. Photo: Charles Harris.
"We've made a pretty aggressive push toward using digital technology to improve the patient experience, and wayfinding was identified early on as an area of focus," Saint Luke's Chief Digital Officer Deborah Gash says.
Prior to deployment, network engineers worked with Aruba to study how the new system interacted with the hospital's Cisco network. They validated the coverage and conducted a walkthrough to make sure the blue-dot navigation experience was accurate, and monitored any changes to network traffic.
For security purposes, Saint Luke's chose not to display the entire walled infrastructure of the campus when creating map views of the hospital. "We decided to minimize the map display only to corridors in the public buildings where we want people to navigate," Gash says.