"SD-WANs have a centralized application-based policy controller that allows organizations to set policies and prioritize certain application traffic to ensure it has certain service levels," Butler says.
Kindred Healthcare, the largest provider of post-acute care services in the U.S., was looking for that type of control when it made the leap to SD-WAN. For Kindred, a move to digitization was putting a lot of pressure on its network. More than 100,000 people, serving more than 1 million patients, access its network, which presented the company with a dilemma, says Charlie Wardrip, Kindred's senior vice president and CIO. Users required more bandwidth as many processes that were previously paper-based went digital.
"The overall bandwidth demands and increasing dependency on using technology inside our facilities were big issues that resulted in slow response time, lower productivity and complaints from our users that they couldn't perform their duties in the most efficient way," Wardrip says. "We also had a mandate from the back office to more effectively apply tighter controls and protect the data exchanges that we support."
The option of throwing more bandwidth in the form of dedicated MPLS lines at the problem simply didn't work because it was too expensive. However, by using inexpensive broadband connectivity in conjunction with its existing MPLS lines, Kindred's implementation of Cisco SD-WAN (formerly Viptela) improved performance instantly.
SD-WANS Cut Costs and Grow Capacity
Previously, each Kindred location had between 1 and 3 megabits. Today, each location has access to about 60 megabits.
"We saw a tenfold decrease in cost and a 20-plus increase in capacity going to our locations," Wardrip says. "We're at a point now where we have very few complaints from our customers about our response time."
The management piece of SD-WAN helps alleviate issues when adding new equipment to the network. What used to take several hours or even days of work is completed within an hour. Previously, if Kindred had to bring in a new router or piece of equipment, the IT department had to schedule time for their vendor to come onsite and figure out how to connect it to the existing environments, which could take up to a day in some cases. That's changed.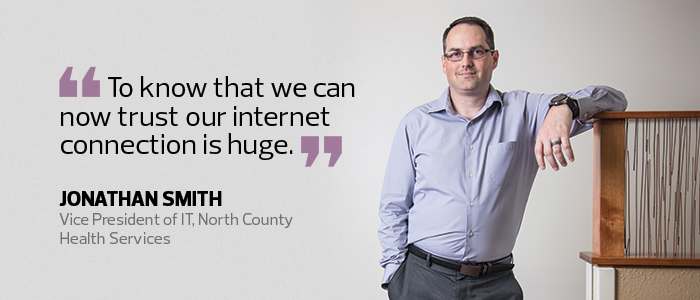 "With the management platform that most of these SD-WAN products have, we ship equipment to a person onsite, they plug it in, and then the management software automatically downloads the configuration we want and it's up and running in less than an hour," Wardrip says.
SD-WAN is also helping some organizations move quickly into the future to support patients, visitors and the myriad vendors who work inside a facility. For example, with more stable connectivity, NCHS can now plan on implementing a telemedicine program. Telepsychology and telepharmacy offerings are forthcoming for the organization, Smith says, something that would have been impossible only a few years ago.
Aids Healthcare Foundation Taps SD-WAN for a Security Upgrade
The AIDS Healthcare Foundation turned to SD-WAN to implement new services and technologies too, as well as to upgrade security. The Los Angeles–based organization has 92 clinics, pharmacies, administrative offices and thrift stores scattered across 10 states. Prior to 2014, it had managed MPLS service at each of its locations, but there was no redundancy. While information — including sensitive patient data — was transmitted over a secure dedicated line, it wasn't enough for Art Kirakosyan, director of IT infrastructure and security for the foundation.
"Yes, we had our own private line, but it made a lot of us uneasy," he says. "With all the threats and compromises happening across the world, we wanted to make sure that the organization was covered."
The foundation moved some of its sites to a tunnel-based system, but it became too difficult to manage for two network engineers and two technicians.
Because the foundation was already a Cisco shop and had Meraki Wi-Fi units installed, moving to SD-WAN was a natural progression. It implemented 90 Cisco Meraki MX 60, 64 and 80 units, and almost instantaneously was able to handle failover, failback and security using the management console. "We were able to set up profiles and push them out," Kirakosyan says. "SD-WAN makes everything a lot easier, and now we're having fewer outages."
NCHS improved its security as well, reducing the amount of overall traffic and keeping certain traffic away from specific data and resources.
"We like providing Wi-Fi to guests, but now we can reroute that traffic to local circuits, so it never crosses paths with secure traffic," Smith says. "To know that we can now trust our internet connection is huge."