Review: Barco Eonis MDRC Clinical DICOM Compatible Display
A combination of accuracy and flexibility makes this display an ideal fit for medical image viewing.
Almost any modern display can be tuned to work with specialized applications, at least until the tolerances begin to drift. But medical professionals needn't worry about that when using the 21-inch Barco Eonis MDRC Clinical DICOM Review Display, which is designed and optimized for accurate medical imaging right out of the box.
The display is calibrated for use with the Digital Imaging and Communications in Medicine medical imaging standard. DICOM-compatible devices can display images from picture archiving and communication systems, as well as radiology information system files used to interpret diagnostic tests. Modern picture-embedded electronic health records also display exactly as intended on the Eonis MDRC without distortion.
SIGN UP: Get more news from the HealthTech newsletter in your inbox every two weeks
Offering Providers Optimal Lighting
The backlit LED display replaces the old X-ray viewing light table, and perfectly mimics the intensity and quality of those light boxes. The monitor is adjusted to provide 250 candelas per square meter of luminance, optimal for viewing stored images.
Designed to work in darkened diagnostic rooms or bright emergency theaters, the Eonis MDRC features an ambient light sensor that adjusts luminance. The LED also incorporates an in-plane switching panel that allows for clear viewing from nearly any angle. A team of doctors can gather around the screen to discuss an image, with each person seeing an accurate view regardless of position.
Adjustable Design for Health Professionals
The stand on the Eonis MDRC is designed with the health professional in mind, allowing the 4:3 ratio LED to tilt 45 degrees to naturally display horizontal or vertical images on the 21-inch display. For instance, a spinal cord X-ray is almost entirely viewable without scrolling.
The Eonis MDRC is solidly focused on accurately displaying medical images, which means grayscale quality and the ability to render tiny differences in high-contrast photos. The display was tested using video benchmarking software, many grayscale pattern grids and several DICOM images.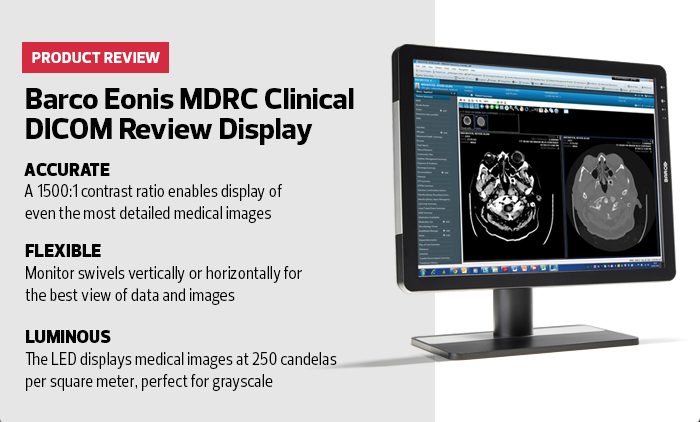 Accuracy within grayscale images is so precise that the Eonis MDRC even successfully rendered several images where the differences in shading between two colors was too slight for the human eye to see. The external sampling tool confirmed that the LED accurately rendered the change, even though it was impossible to detect by simply looking at the image.
Simplifying Complex Grayscale Enhances Care
All displays give up performance or accuracy in key areas, or within certain color ranges, to focus on others. With a modern display, those limitations can be subtle. But with a monitor designed for medical imaging, such as the Barco Eonis MDRC Clinical DICOM Review Display, those subtleties could be a matter of life and death.
Typical medical images displayed accurately in all cases on the Eonis MDRC, which achieved color accuracy of less than Delta E = 1 in grayscale images tested with a scientific external device designed to monitor color calibration. This result was obtained using the factory default, out-of-the-box settings with no modifications.
The monitor was tasked with displaying extremely complex grayscale patterns that had thousands of tiny, fine lines of various hues. Besides rendering each grid or pattern accurately, there was never even a hint of a moiré effect, which could distort a medical image, and which are fairly common in general-purpose displays trying to render complex grayscale patterns.
The display renders medical images almost flawlessly, without inducing visual errors or artifacts — and does so straight out of the box, with no calibration required.
Barco Eonis MDRC Clinical DICOM Review Display
Monitor Type: LED IPS backlit display panel
Screen Size: 21-inch diagonal
Supported Colors: 1.07 billion
Pixel Pitch: 0.27 millimeter
Dimensions: 23.3x14.8x7.9 inches
Weight: 19.18 pounds