Cisco S3260 Review
Learn about the new Cisco UCS S3260 storage server that combines industry-standard 4 RU form factor with the powerful Cisco UCS Manager software.
Healthcare organizations collect a wealth of data about the patients they serve. Instant access to that information is critical; so is privacy, as Health Insurance Portability and Accountability Act (HIPAA) ­regulations require protection for all stored ­personal data.
The Cisco Systems UCS S3260 Storage Server is designed as a platform to meet those needs.
The server is built for redundancy and easy management, which is especially important for healthcare environments where there may not be time to wait for a repair technician in an emergency. It holds four power supplies, meaning it can be built out in a "two and two" configuration, with support provided for the backup.
Each of the 56 drive bays in the array is also hot-swappable. If programmed for a RAID build with redundancy, that would allow for failing drives to be replaced without powering down the server — and without suffering any data loss.
Healthcare Organizations Can Enjoy Easy Access and Flexibility
Physically, the UCS S3260 is designed to simplify maintenance. Two large doors at the top of the device swing open to provide easy access to each drive in the array. I mounted the UCS S3260 in a server rack and found that with the tray rolled all the way out, the topside doors clear the rest of the enclosure, making it easy to perform maintenance on installed drives or to add more capacity. Additionally, I could accomplish everything using just my hands — no tools were required.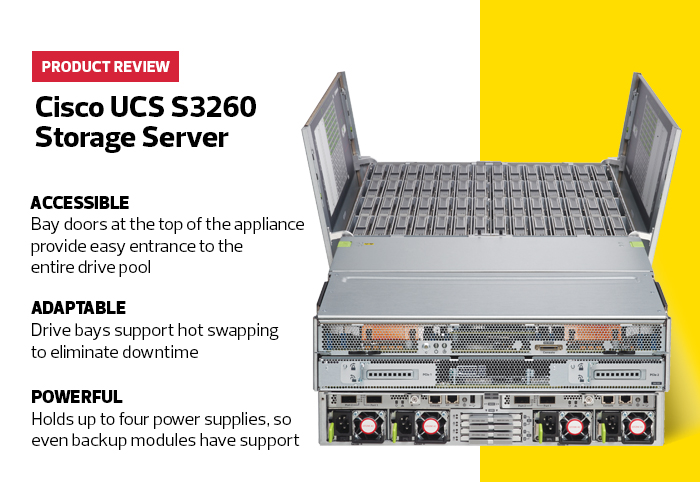 If running at RAID 0 with all drive bays filled, the UCS S3260 could offer 600 terabytes of storage capacity, although most healthcare organizations likely will opt for a redundant RAID configuration. Doing so provides less overall storage, but still plenty of room to work.
A key feature for healthcare organizations: When the modular hardware is combined with the UCS Manager software, it gives the physical server the same scalability and flexibility as a cloud storage solution. The difference is that all data stored on the UCS S3260 can remain completely in-house and protected per HIPAA regulations, without having to worry about the possibility of a data breach at an outside provider.
Wrangling Full Potential with Reliable Management Software
While the Cisco UCS S3260 chassis is impressive, tapping into its full potential requires good management software to help install the chosen operating system and to build out specific storage needs. Cisco offers its Unified Computing System (UCS) software for just that task, and for continued management of the server.
I downloaded the latest version of the UCS software, which supports the entire UCS server and Cisco HyperFlex hyperconverged product line, from a single screen. I put the UCS software in place and built out the test S3260 Storage Server.
Using the software eased setup tremendously. It employs a graphical interface and supports Java and CLI on the front end, which makes standard tasks such as provisioning storage much easier than manipulating a command line interface.
It also allowed me to set very granular policies, such as which users could access data and folders, a key requirement in a HIPAA-protected healthcare environment. And, if there were more Cisco products in my test bed, I could manage all of them at the same time, through the same interface.
Once the server was up and running, I was pleased to see how well the UCS software could instantly spot any changes made, as well as monitor overall storage health. Whenever I added new memory or drives, the software detected it and offered to help configure the new component. Drives could be added to the overall resource pool regardless of RAID level, or provisioned and configured as separate, independent storage capacity.
With the ability to continuously monitor and manage the server thereafter, it's definitely a good brain to go along with the UCS S3260's brawn.
More On