Review: Panasonic Toughbook 20 Is a Sturdy, Practical Device for Clinicians
Able to handle multiple roles in a medical setting, this notebook works well in treatment rooms and on the go.
Panasonic Toughbooks were originally created for soldiers, who needed a computing device that could survive combat. With great success there, the company began to branch out into other industries in need of specialized, portable computers that could survive in unique environments. The sometimes chaotic (and always busy) healthcare field was a natural fit.
The Toughbook 20 is the latest notebook customized to work and survive in healthcare facilities of all types. Like its military forerunners, it has been fully ruggedized against the kinds of elemental forces that tend to destroy computers. It can survive a drop onto a hard floor and repel damage from liquids — even biological fluids — that may spill or splash across it. Wiping it off or sterilizing it with soap or other liquid won't harm the system, so cleanup is easy.
DOWNLOAD: See how mobile technology takes care to the next level!
The Toughbook 20 Offers Clinical Mobility and Stability
Several design features make the Toughbook 20 a good fit for many roles at a hospital or doctor's office. Even with the metal carrying handle built into the frame, it remains lightweight, at just a hair over 2 pounds. Carrying it throughout a shift should not add too much of a burden to clinicians. The handle can also serve as a kickstand, providing a measure of stability even on less than optimal surfaces.
For true mobility, the screen can detach from the keyboard and be used as a fully functional tablet, further reducing the Toughbook's weight. It's capacitive touch-screen technology accepts input even if the user is wearing surgical gloves, so clinicians don't have to pull them off to enter data, send prescription orders or research a patient's history or medical condition.
Underneath those provider-friendly features is an extremely capable computer with a dual-core Intel i5 ­processor and 8 gigabytes of RAM. The device runs a full version of the 64-bit Windows 10 Pro OS, and it never waivered with any of the computing-intensive programs I threw at it.
The Toughbook 20 is a powerful and portable system with a lot of extra features to endear it to all clinicians.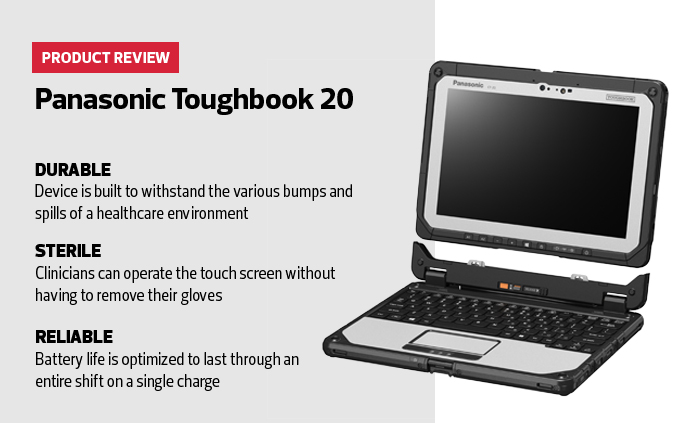 The Panasonic Toughbook Is Rough and Ready to Rumble
Making computers that can survive in harsh environments is a relatively new science, but Panasonic has been doing it longer than anyone. The most important thing to know about rugged computing is that while a lot of companies use words like hardened or durable to describe their products, they don't necessarily have standards to back up those claims.
Toughbooks come by their name and rugged label rightly because they pass various tests prescribed by the MIL-STD-810G benchmark.
MIL-STD testing consists of 28 minitests for durability, including resistance to shock, vibration, high and low temperature, sand and dust exposure, blowing wind, humidity, altitude and others elemental factors. MIL-STD scores allow users to evaluate the potential survivability of a prospective device against the expected environment it will face.
The Toughbook 20 can withstand shock (dropping of the unit), vibration, water ingress, and high and low temperatures. For extra measure, the solid-state drive is heated to help it withstand extremely low temperatures.
All of the Toughbook models, including the 20, are evaluated by the Southwest Research Institute, a well-known, independent testing facility for rugged devices. I put the Toughbook 20 through my own rugged testing nonetheless.
Perhaps the biggest danger to most computers is shock. If dropped, a normal system can experience great damage, or even suffer critical failure. The Toughbook 20 can take a lot of punishment before that happens. I dropped it on all of its surfaces, while it was both powered on and turned off. It was dropped onto plywood atop concrete, as required by the MIL-STD testing procedure, from a height of 3 feet. Not only did the device and all of its data survive, but it picked up only one or two scratches from the ordeal, and even these were later scrubbed off.
I also spilled liquid over it, which had no effect at all. I only used water, but the Toughbook can repel almost any fluid. Cleaning up the unit afterward with a wet cloth was a snap, and didn't otherwise harm the unit.
SPECIFICATIONS
Display: 10.1-inch IPS touch screen
Processor: 1.2GHz Core i5 7Y57
Hard Drive: 256GB solid-state drive
RAM: 8GB DDR3L SDRAM
OS: Microsoft Windows 10 Pro 64-bit edition
Dimensions: 7.7x10.7x0.6 inches
Weight: 2.09 pounds