Hospitals Shouldn't Gamble with Their Mobile Strategies
Provider organizations must consider infrastructure and patient care needs when rolling out device-driven initiatives.
For most individuals, mobile phone ownership is now the rule and not the exception. According to the Pew Research Center, 95 percent of Americans own a cellphone of some kind, with 77 percent of those owning smartphones.
A recent breakdown of mobile device use in healthcare tells a similar tale. Of 600 healthcare IT decision-makers surveyed by enterprise management software company Jamf, 90 percent say their organization has implemented or will implement a mobile device initiative. What's more, 47 percent of responding healthcare organizations say they plan to increase their device use within the next two years.
Still, not all providers have a fleshed-out strategy to leverage such tools, according to a recent KLAS Research report, an approach ­co-author Paul Hess calls a "proverbial roll of the dice."
His point is a valid one, as healthcare providers must strive to keep up with mobile trends.
Plan for Mobile Cybersecurity and Infrastructure
"Even if an organization doesn't have a mobility strategy clearly laid out and defined, that by default is their mobility strategy," Hess told HealthTech in a previous interview. "Organizations need to understand the strengths and weaknesses of the mobile devices that are being used."
In addition to understanding strengths and weaknesses of devices, provider organizations must plan for cybersecurity around mobile tools, and also build out an appropriate infrastructure to ensure reliability for end users. Sixty-six percent of respondents to the Jamf survey cited security and compliance as a top concern of implementing a mobile device initiative.
Keep an Eye on Patient Satisfaction
To that end, mobility management tools are critical to such deployments. For Miami-based VITAS Healthcare, one of the nation's largest hospice providers, enterprise mobility management software helps to give clinicians access to the organization's electronic health record system in a secure manner. VITAS says use of its EMM solution helped it provide better, more timely care while also saving the organization $2.2 ­million in three years.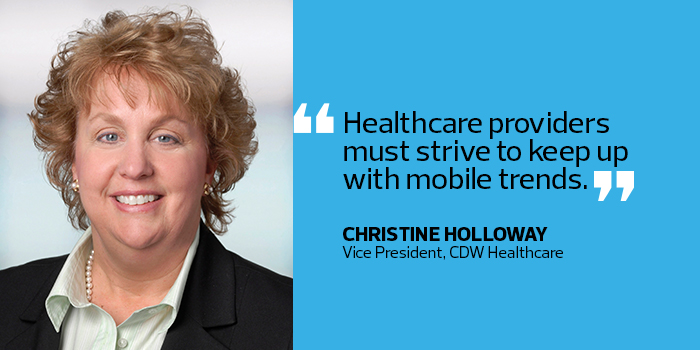 A robust scalable network architecture is also crucial, as healthcare organizations must be able to handle increased traffic demands, growing data sets and connectivity expectations of both staff and patients.
Providers must also increasingly prioritize patient satisfaction as part of any strategy to leverage mobile tools. According to the Jamf poll, 96 percent of organizations that implemented a mobile device initiative reported an increase in patient experience scores; 32 percent of those respondents said those scores have risen dramatically.
Increased satisfaction, of course, can result in higher Hospital Consumer Assessment of Healthcare Providers and Systems scores, which can have an impact on reimbursements.
Continue to Assess User, Clinician Mobility Needs
One organization that's received positive patient feedback from its deployment of mobile tools is Phoenix Children's Hospital, which rolled out 400 tablets to patient rooms over a three-year span. The program has proved so successful that the organization is now deploying tablets in its outpatient clinics.
The hospital wants to customize the patient experience even more by improving software deployed on its devices.
Like Phoenix Children's and other organizations, providers must continuously assess the mobile landscape and adjust their strategies accordingly. Without a well-thought-out plan in place, hospitals will struggle to reap the benefits of deploying technology that caters to today's end users and meets patients on their terms.
Getty Images
More On