Enterprise Management Forges More Effective Healthcare Mobile Strategies
Providers prioritize device usability and security to improve efficiency and the patient experience.
VITAS Healthcare, one of the nation's largest hospice providers, delivers comprehensive hospice services to patients wherever they call home. Until a few years ago, physicians, nurses, chaplains and social workers would visit patients armed with laptops and bulky binders filled with paperwork. The technology helped providers complete clerical work, but also created a barrier between patients and clinicians.
"Our job is to get the technology out of the way," VITAS CIO Patrick Hale says. "We need technology solutions that can really help us emphasize caring for patients."
While Hale and other VITAS stakeholders believed that deployment of mobile solutions made all the sense in the world, they were wary of the management challenges that come with equipping 8,000 clinicians in 14 states and the District of Columbia with smartphones.
Applications would need to be rewritten for a mobile operating system, and the organization would need a way to track and monitor all the new devices.
Most important, though, clinicians would need to access patient health information in a secure manner that complied with industry and federal regulations.
"We couldn't even touch mobility with a 10-foot pole in healthcare unless it was secure," Hale says.
Those factors led the Miami-based organization to embrace VMware's AirWatch enterprise mobility management (EMM) software. Mobile tools are becoming a critical part of operations for many healthcare organizations, highlighting the need for management solutions that both safeguard data and streamline environments for users and IT shops.
SIGN UP: Get more news from the HealthTech newsletter in your inbox every two weeks!
Mobile Deployments Enhance Care, Cut Costs
The deployment of AirWatch has not only helped VITAS deliver better care to patients, but also saved the organization $2.2 million over three years, compared with the cost of supporting the laptop program, Hale says.
The solution allows for clinicians to remotely and securely access the organization's electronic health records system and also streamlines mobile deployment. When VITAS nurses are hired, they receive a company-owned iPhone. They enter their credentials into the device, and through AirWatch, the smartphone self-configures.
That enables almost immediate access to work-related apps, including a central repository of data about all the facilities with which the company works.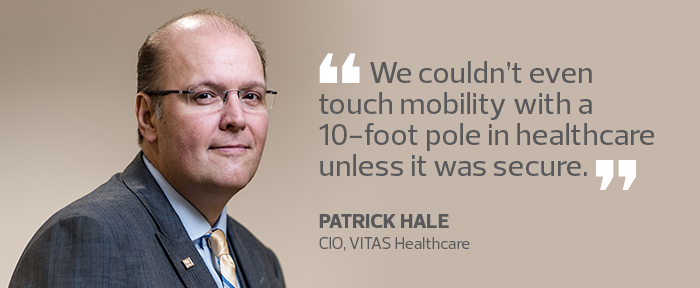 The EMM tool also allows VITAS to keep track of its mobile assets and to remotely wipe lost or stolen devices.
"It's about balancing care delivery with regulatory compliance," says Phil Hochmuth, program director for enterprise mobility at IDC. "That's something that keeps people up at night."
Perhaps most dramatically, training time has been reduced from 23 hours for PC-based processes to one hour for the new mobile model. VITAS uses its iPhones for critical processes like patient admissions and drug orders. Due to the importance of these operations to the organization's care model, it opted for a premium cloud version of AirWatch with a higher level of guaranteed uptime.
"If the system goes down, we can't admit a patient," Hale says. "It becomes a mission-critical application overnight."
iPads Switch the Focus Back to the Patient
At Danville, Pa.-based Geisinger Health System, IT professionals support iPad devices in patient rooms with Jamf's EMM solution. The devices are preloaded with more than 120 apps, ­including games and entertainment for various age groups. Additionally, education and engagement apps let patients get to know their care team and give them access to lab results in near real time, enabling ­individual ownership of care.
"We allow people, if they have their own Apple ID, to log on to the device and access their paid applications and music, and load whatever they want," says James Rafel, IT program director for Geisinger. "Then, when they're discharged, we wipe the devices clean, so there's no sensitive data when the next patient uses it."
The ability to wipe devices automatically following patient discharge is being added this quarter, Rafel says, which means iPads will reset in the room with no staff interaction — a big workflow win.

"Rather than foisting technology onto clinical staff and telling them they're responsible for it, we can allow them to continue their work."
Clinicians Tap Secure EHR Access on the Go
EMM solutions have evolved to the point that managing clinician-owned devices is far simpler than it would have been even a few years ago. Trinity Health Of New England uses Citrix XenMobile to give its doctors and nurses secure, anytime access to its EHR.
"It allows end users to use their personal device, but also gives them access to the data they need in our data center, with a secure connection," says Damien McKinney, a virtualization architect for the health system. "It's a win-win."
XenMobile enables Trinity's IT shop to implement device- and app-based controls, such as requiring that clinicians use a passcode on their smartphones, and automatically logging people out of clinical apps after set periods of inactivity. The most complicated aspect of rolling out XenMobile on clinicians' smartphones turned out to be something totally unexpected, McKinney says: Many didn't know how to log in to their app store accounts.
"Resetting their iTunes password took longer than setting them up with EMM," he says.
At Geisinger, the maturation of EMM solutions has helped clinicians feel more comfortable with BYOD than they did in the past, Rafel says.
"We're accomplishing mobile management in such a way that people don't have to worry that we're going to erase all of their private data or see everything they're doing."
Such improvements have simplified mobility and opened up new opportunities for VITAS, Hale adds.
"Three and a half years ago, we couldn't do anything we're doing right now," he says. "The user experience is 100 percent better than it was a year ago, and it's been that way every year."
Photo of VITAS Healthcare CIO Patrick Hale. Photo by Josh Ritchie.
More On