Doctors Can Help Patients Earlier Thanks to Noninvasive Sensors
Sensor-based and wearable monitoring technologies promise to aid chronic-care management.
Accurate and consistent monitoring remains one of the biggest challenges for physicians who care for chronically ill patients, especially older populations. But what if doctors and clinicians could use automated technology to more easily track patient activity and stop episodic problems before they start?
Researchers at the Massachusetts Institute of Technology (MIT) believe that a sensor-based tool they have developed can head off risks associated with chronic health problems, such as heart failure and stroke, without having to touch a patient. What's more, sensor-driven technology being tested by researchers throughout the country holds promise for warning users of dangerous fluid buildup in the lungs.
By collecting patient data more seamlessly and in a less obtrusive manner, sensor-enabled innovations show much potential to improve chronic care.
SIGN UP: Get more news from the HealthTech newsletter in your inbox every two weeks
MIT Sensor Tech Tracks Gait
As health indicators go, gait velocity and stride length are as reliable as blood pressure, body mass index and smoking history in gauging life expectancy, says researcher Chen-Yu Hsu, a Ph.D. student in the Computer Science and Artificial Intelligence Laboratory at MIT. However, seniors generally visit clinics only once every few months.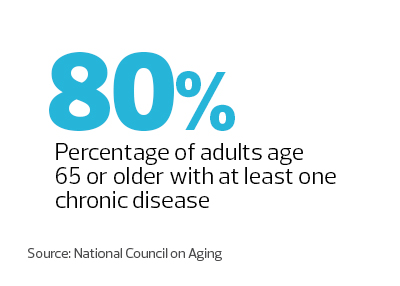 "With such infrequent measurements, it is very hard for medical professionals to detect changes and intervene earlier," he says. Hsu and his colleagues developed WiGait, a sensor the size of a picture frame that hangs on the wall of a patient's home. Radio signals measure an individual's gait velocity and stride length, and results are then relayed to a cellphone via Bluetooth and uploaded to the cloud.
Early testing shows WiGait to be nearly 99 percent accurate in judging gait velocity and almost as accurate in judging stride length, Hsu says. Testing and analysis of the tool continues, he adds, with an eye on possible commercialization down the road.
Ohio State University Keeps Fluid Tracking Close to the Vest 
SensiVest, a Remote Dielectric Sensing vest developed by Sensible Medical Innovations, uses embedded sensors that generate electromagnetic signals, which react differently when passing through liquid. That allows researchers like Dr. Rami Kahwash, a cardiologist and assistant professor of clinical medicine at Ohio State University's Wexner Medical Center, to noninvasively scan for fluid buildup before it reaches a critical point. That information is transmitted to a device in a patient's home, where it is then relayed to a secure website for doctors to review.
Fluid in the lungs often presents few outward symptoms until it reaches a dangerous level for patients. A common side effect of congestive heart failure, the condition frequently leads to hospital readmission, Kahwash says.
"We need tech that will tell us how the lung is behaving before we get to the crisis point," he says.
Both tools show the early potential of sensors to help patients with difficult medical issues, says Harry Wang, senior director of research at Parks Associates. Many current approaches are either too invasive, inconvenient or inaccurate, and lack clinical value, he adds.
"We are at the beginning of this revolution, where the industry has yet to determine what consumers will value the most, how best to define their needs and respond with a well-designed experience," Wang says.
fotomay/Getty Images