Review: Zebra CS4070-HC Companion Scanner Kit Is the Prescription for Accurate Care
Speed, accuracy and durability help the device ensure patient safety.
As patient volumes at healthcare facilities continue to rise — increasing the risk of treatment mistakes by busy staff — accuracy is paramount to ensure safety.
The Zebra CS4070-HC Companion Scanner Kit eliminates much of that risk. The device, a tiny handheld scanner capable of reading most barcodes, integrates with in-room, facility or portable computers through wireless Bluetooth. By scanning a patient's chart, the tool can send a signal to a medication cabinet to automatically dispense exact prescription dosages, for instance. It also allows clinicians to quietly check a patient's ID bracelet or badge to ensure the right people are in the correct place for treatment.
Less than 2 inches long, and weighing only 3 ounces, the scanner can hang on a staffer's lanyard or slip inside a pocket. A lithium ion battery powers the device, which worked for 11 hours and 48 minutes in our testing before needing to be recharged, enough to get it through most shifts.
A USB port allows the scanner to recharge from any powered device or dedicated charging station; the unit includes a shielded USB cable for that purpose.
It Keeps Scanning Through Wear and Tear
The Zebra taps into proprietary Motorola PRZM Intelligent Imaging technology to offload some of the decode software to the scan engine itself. All of our scans registered in less than a second.
The device also incorporates advanced algorithms that fill in the blanks in the event that a barcode becomes damaged. We scratched up a few and simulated different kinds of code interference that might occur in a hospital, but the Zebra accurately read all of them. It even read codes from a smartphone.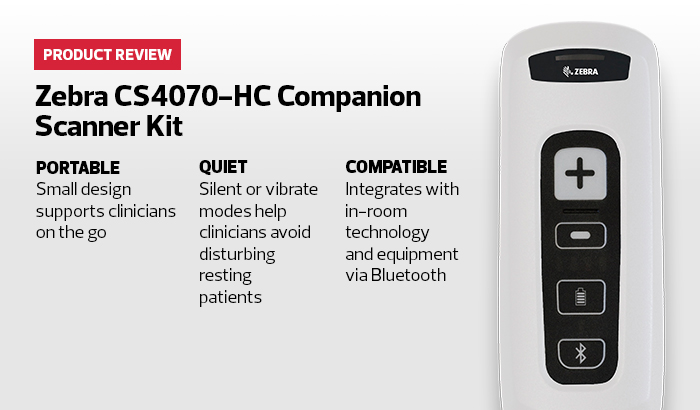 The Zebra CS4070-HC Companion Scanner Kit may be small, but its use can have a large effect on the accuracy of healthcare treatments, ensuring that every patient follows the exact plan ordered by their doctor.
The Zebra Stands Up Against Sterilization
Infection control remains one of healthcare's greatest concerns. Poor sanitation can cause a facility to be one of the most dangerous places to work or visit. As such, staffers must constantly sterilize their hands and, depending on the ward or patient, wear gloves and a mask. All tools must be built to survive similar treatment, as well.
Zebra designed its CS4070-HC Companion Scanner Kit for deployment in those settings and beyond. We loaded a full bottle of medical-grade foaming cleanser and then went to work cleaning the device by giving it a direct foaming bath. We also sterilized our hands and before they were completely dry, tested the scanner. The device worked just as well after 100 of these interactions as when we started. As a bonus, none of the plastic button lettering showed any wear or tear afterward.
We also tested the rugged features of the device. The Zebra is rated to be able to survive a drop of up to five feet onto concrete. While other devices with similar ratings have fallen apart during these drop tests, there was no need to worry about this scanner. Weighing just over three ounces, the Zebra does not generate a lot of energy when dropped. It hit the concrete test bed more than 50 times from five feet but showed no signs of slowing.
Hospitals may not technically be war zones, but the biological and physical hazards are real — dangers the Zebra CS4070-HC Companion Scanner is ready to tackle.
The Zebra CS4070-HC Companion Scanner Kit
Barcodes Read: Code 128, Code 39, Data Matrix, PDF417, UPC, UPC-A
Wireless Interface: Bluetooth 2.1 EDR
Flash Memory: 512MB
Ports: 1 USB
Dimensions: 1.8x4.4x1 inches
Weight: 3.29 ounces