Review: Honeywell Dolphin CT50h Balances Toughness and Efficiency
A long battery life makes the mobile computer ideal for busy healthcare professionals.
When it comes to working in clinical settings, the Honeywell Dolphin CT50h is an ideal mobile computer for on-the-go healthcare professionals caring for patients on a daily basis.
The device is both compact and rugged. It weighs just over 12 ounces, including the removable battery, but boasts a Corning Gorilla Glass screen to mitigate the impact of accidental drops and scratches. Additionally, the CT50h is sealed with a thin, rubber ring around its edge to protect against external contaminants and has been independently certified to withstand both water and dust intrusions.
The device is not only physically tough, but also built to be secure. While it boasts a microSD card slot for easy expandability, there is only the proprietary Honeywell connector for physical access.
What's more, the CT50h supports mobile electronic health record and nursing applications, such as Cerner's CareAware Connect 3.0 clinical mobility solution, which lets users securely text other providers and view patient records.
A Reliable and User-Friendly Device
Battery life is the last thing a clinician wants to worry about when caring for multiple patients, and the Dolphin CT50h doesn't disappoint. The device's 3.6-volt, 14.2-watt lithium-ion battery lasted more than 13 hours in my test, easily covering the length of an average 12-hour shift.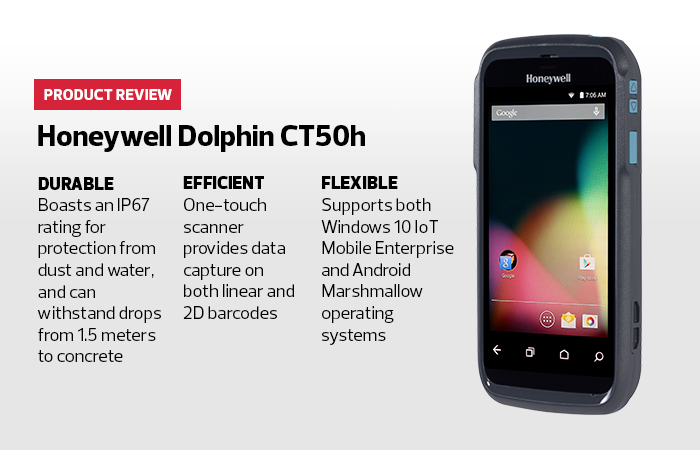 What's more, the mobile computer is equipped with a precision barcode scanner to simplify the task of patient data collection, thus reducing costly mistakes. The scanner can read both linear and 2D barcodes.
The Dolphin CT50h has an 8-megapixel camera to take quick pictures, and boasts six internal sensors — light, proximity, accelerometer, magnetometer, gyro and pressure — for use with medical applications.
My test unit came with Android 6.0.1 installed, but supports both Windows 10 IoT Mobile Enterprise and Android Marshmallow operating systems. Voice over IP is also supported on the device, as is push-to-talk.
Catering to Administrative Necessities
The Honeywell Dolphin CT50h is equipped with a set of 12 power tools, which are an absolute necessity for administrators. The tools, accessible within the "Power Tools" folder of the Android application, fall into three categories: network utilities, configuration and diagnostics, and basic administration.
The network utilities includes four tools: IPConfig, Ping, Route and Wi-Fi Info. IPConfig displays, releases and renews IP parameters, and supports configurations for static IP addresses. This can be especially useful for initially troubleshooting connectivity issues. Ping displays an interface for the ping echo request utility.
Route shows the path across subnets to a targeted destination and allows editing of rules for packet destinations across those subnets. Wi-Fi Info enables and disables the Wi-Fi radio, provides information on access points and tracks roaming statistics.
The configuration and diagnostics category comprises three tools:
ConfigApps, which allows the administrator to enable or disable applications and install updates. This can be especially useful in locking down the CT50h for particular use cases or to meet regulatory or policy demands.
Configure Autorun, which provides the ability for the administrator to set which applications automatically run upon reboot. This helps in setting up the interface for the clinical staff.  
EZConfig, which supports advanced configuration and customization of the Dolphin computer, including a standard XML editor and configuration of the barcode scanner.
Finally, the five basic administration tools include: 
Backup, which backs up and restores user settings and data files as necessary. 
BattMon, which provides information on the charge status and health of the battery unit, including log files and battery configuration.
Diagnostic Information, where users can find system statistics, notifications and version information.
File Browser, which displays files and folders within the Android operating system.
LogView, which displays a customizable log of system information, helpful for when a particular device is experiencing intermittent hiccups or other unexplained issues.
Honeywell Dolphin CT50h
Processor: 2.26GHz Qualcomm Snapdragon 801 quad-core processor
Display: 4.7-inch HD LCD touch screen
Connectivity: IEEE 802.11 a/b/g/n/ac/r, Class 2 Bluetooth 4.0
Memory: 16GB eMMC Flash storage, 2GB LPDDR3 RAM
Dimensions: 6.3x3.2x0.75 inches
Weight: 12.1 ounces