Fact or Fallacy: Could Artificial Intelligence Replace Doctors?
As medical professionals continue to turn to machine-learning technology like IBM Watson to boost diagnosis and treatment, we address myths and truths about introducing AI for healthcare.
Much discussion and debate surround the topic of physicians and the use of artificial intelligence. The notion that AI could ever fully replace a doctor is not a completely absurd one — there are many jobs, including white-collar professions, that eventually will be replaced by automation and various levels of machine-learning technology.
Certainly, from a pragmatic perspective, it is interesting to consider the possibility of a physician who never needs to eat, never tires, can read thousands of pages of new research every day, can record and remember every experience and can even communicate in multiple languages.
But can a machine provide better patient care?
SIGN UP: Get more news from the HealthTech newsletter in your inbox every two weeks
Fallacy: Empathy Is Not Necessary
In a recent Harvard Business Review article, authors Richard Susskind, chairman of the advisory board of the Oxford Internet Institute, and his son Daniel, an economics fellow at the University of Oxford's Balliol College, say that AI will not only support physicians in their work, but also ultimately replace them. The argument that technology cannot be empathic is moot, they argue, and many aspects of professional work do not require compassion. The authors argue that judgment, creativity and empathy are not necessary to the practice of medicine.
However, those qualities are extremely desirable for all health professionals, especially doctors. To say that empirical evidence shows that doctors' work doesn't require the use of reason and judgment demeans the profession. When a patient or caregiver is troubled or overly agitated, empathy is certainly in order.
What's more, innovation springs from creativity. I do not see neural networks and deep learning approaching the human capacity for new ideas.
Fact: Radiology Is Ripe for AI Disruption
Certainly, there are many provider tasks that could benefit from AI, and other jobs where it may completely take over, including the routine, process-based work in which machines are quite often more capable than their human counterparts. Many physicians likely would welcome that type of help. In some areas, such as radiology, AI is already poised to improve patient care.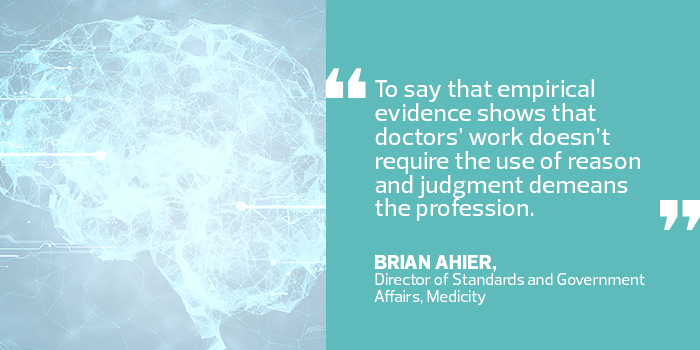 Perhaps the best argument in its favor: AI technology has been shown to cut diagnostic errors. According to research published in the journal Radiology, machine learning was able to predict the survival of patients who suffer from pulmonary hypertension.
For the study, software read magnetic resonance imaging heart scans and blood test results from 256 patients. It measured the movement of 30,000 different points in the organ's structure during each heartbeat, and could predict survival results about five years into the future. The researchers say their work demonstrates the ability to minimize human intervention while maximizing existing computational resources. They believe that by integrating experimental and clinical data, the time is growing closer for using such tools in routine clinical practice.
Some radiologists may indeed lose their jobs.
Fallacy: Tech Will Take Over Tumor Treatment
Yes, cancer detection and treatment represent another area in which machine learning is progressing rapidly. IBM Watson, for instance, uses cognitive computing AI technology to recommend cancer treatments in rural areas of the United States, India and China, which suffer from shortages of trained professionals; however, those tools and services should be viewed as supplementary to a physician's repertoire, not a replacement for it.
For the Watson for Oncology project, doctors and analysts at New York-based Memorial Sloan Kettering trained the AI platform for more than a year to sort through hundreds of medical journals and textbooks. Now, Watson for Oncology is being deployed into clinical practice at Jupiter Medical Center in South Florida, which announced in February that it would become the first community hospital in the United States to take advantage of the platform.
Additionally, IBM Watson and Quest Diagnostics have launched a service that combines cognitive computing with genomic tumor sequencing, helping to precisely target all of the mutations a tumor might undergo.
Still, humans remain at the heart of those efforts. At HIMSS 2017, IBM CEO Ginni Rometty echoed that sentiment, arguing that the technology is built to augment human intelligence, not replace it. Watson should be considered an aide or a colleague, she said. "It is not about fear here."
It's interesting to ponder such a future based on the potential cost-effectiveness and efficiency for healthcare providers. Still, some personal, emotional and spiritual aspects cannot be ignored.
Colin Anderson/Glow Images