Electronic Health Records Rollouts Prove to Be All-Encompassing Affairs
Organizational buy-in and technology support key to successful systems implementations.
Houston Methodist's IT team recognized early in its electronic health record implementation process that they were in for a highly complex undertaking.
The healthcare provider, with eight hospitals and 150 ambulatory care facilities that include physician offices and clinics, has grown rapidly in recent years through acquisitions and expansion. But in 2015, about half the ambulatory locations used existing EHR software, while the other half were paper-based.
To standardize on a new, more comprehensive EHR systemwide, the IT staff needed to involve every stakeholder in the planning process and get across-the-board buy-in.
Investments in new data center infrastructure and computers, Wi-Fi and other equipment in exam rooms were necessary. Houston Methodist also had to diligently test and troubleshoot newly integrated systems and new electronic workflows before going live.
For health systems of all sizes, EHR installations and support represent all-encompassing journeys that involve much more than just software installation.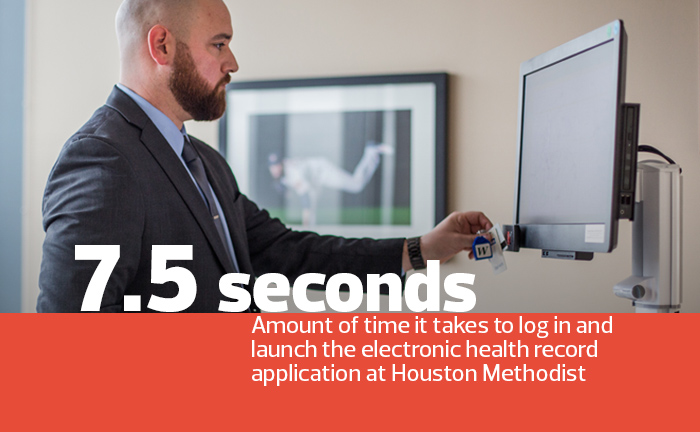 Start With a Phased Approach to EHR
Houston Methodist's senior IT and operational leaders decided that a phased rollout made more sense than a big-bang implementation, in which EHRs are launched simultaneously at every location.
"We chose the phased approach because it would allow us to gain experience and learn as we took different parts of the organization live," says Josh Sol, IT director for Houston Methodist's Physician Systems. "With a big-bang approach, it's difficult to staff and be successful. We did not want to risk impacting patient safety or revenue to the system."
Each approach has its pros and cons, and the right choice depends on individual organizations and their project's scope, says Dan O'Connor, vice president of client relations at Stoltenberg Consulting, a Bethel Park, Pa.-based healthcare IT consulting firm.
"A big-bang approach brings larger risk to the organization but is less costly from both a development and implementation perspective," he says.
Last year, Houston Methodist deployed Epic EHR software in nearly all of its locations in four phases, including the entire physician organization and its flagship 1,119-bed Houston Methodist Hospital.
The IT staff plans to complete the project this year by deploying Epic at its seven remaining hospitals in February, May and July.
To ensure buy-in, IT leaders collaborated with hospital and clinic leaders to plan the project, including the decisions to standardize on Epic and to integrate third-party ancillary systems to support their operations.
With the new EHR, they eliminated many paper processes and created electronic workflows, such as allowing physicians to order tests or prescribe medicine electronically. The EHR also unifies patient records for both in-patient and ambulatory care, resulting in operational efficiencies and improved patient care and safety, Sol says.
"This implementation truly took a village," he says. "We knew going in that this would be an operational project, not just IT. This project would transform how Houston Methodist documents patient care. The involvement of our hospital and physician organization partners, IT team members and many others played an important role in the success of the 'go live' events so far."
EHR Innovation Doesn't Stop at Implementation
Healthcare IT leaders who have effectively implemented EHRs in their organizations say continued success requires ongoing improvements and investments.
"It's never at a standstill," says Roland Garcia, senior vice president and CIO at Baptist Health, which also took a phased approach to implementing its EHR at five hospitals and ambulatory facilities in the Jacksonville, Fla., area from 2004 to about 2010. "As regulatory requirements change and as technology changes, we continue to enhance functions and features."
Baptist Health's EHR system is starting to do predictive analytics. For example, the application can analyze hospital patients' vital signs and lab work to look for signs of sepsis, Garcia says.
Children's Hospital Los Angeles installed Cerner's EHR system in 2004, but continues to fine-tune the implementation by adding new features and improve workflow by adding new departments.
"It takes constant improvements to make it as effective as possible," says Dr. Sajjad Yacoob, CHLA's chief medical information officer. "In the past 12 years, we've expanded the use of the system from in-patient care to the ICU, ambulatory clinics and emergency department, and beyond our four walls to patients and providers through our portal."
CHLA regularly upgrades its IT infrastructure and is refreshing 20 to 30 percent of its equipment each year.
In the future, the hospital plans to improve mobile EHR access and integrate infusion pump technology, which can recognize when pumps are low and automatically order refills.
"The beauty of the maturity of our system is that it becomes more nuanced and more effective over time," Yacoob says. "It not only helps the bottom line, but it improves patient outcomes and keeps them safe."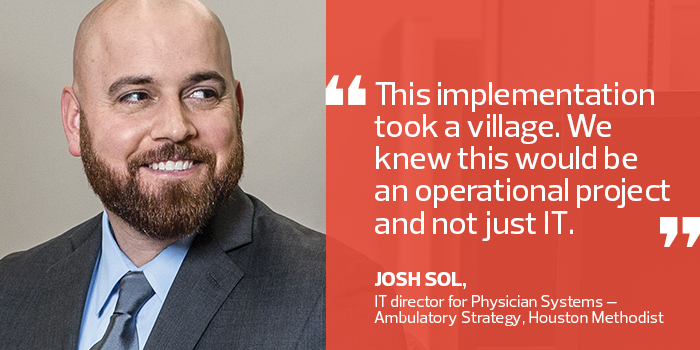 Plan to Test and Troubleshoot EHR Rollouts
To prepare for its massive implementation, Houston Methodist dedicated 220 IT staffers and hired a consulting firm.
The team built simulation labs and ran a gap analysis, allowing physicians to test the system and locate problems for the IT department to fix, Sol says. Then, before going live in each location, the IT staff held technical dress rehearsals, during which all computers were tested to ensure everything worked.
Houston Methodist administrators and IT leaders are pleased with the implementation so far. During the 2016 deployment, there was little to no impact on revenue, and the total number of patients seen bounced back following each go-live event.
"We're still in the adoption phase, and we know we have areas that need focused attention. But we are proud of where we are," he says.
But even before the simulation labs were operational, Houston Methodist's IT department invested in a brand-new infrastructure in 2015, standardizing on Citrix XenApp virtualization software since Epic runs a server-based hosted application.
To maximize performance, the IT team purchased 43 Lenovo blade servers and IBM flash storage, which is segregated from the general IT infrastructure. The servers currently run 315 Citrix virtual machines, which provide EHR access to 5,000 concurrent users, says Trey Jones, Houston Methodist's director of IT infrastructure services.
Arming Physicians With the Right Technology
The organization also strengthened its Wi-Fi network by upgrading from older 802.11n access points to new Cisco Aironet 3700 series 802.11ac APs. It also deployed more APs.
Previously, the facility had them about every 3,000 feet; now it has APs located every 1,800 to 2,000 feet, says Armand Stansel, director of Houston Methodist's IT unified communications and network engineering.
The IT department also provided physicians with a standard set of tools from which they could choose office and exam room technology. IT offered a Lenovo desktop or notebook computer, and either a workstation on wheels or wall mounts from Humanscale or Ergotron to house computers, says Alex Vega, Houston Methodist's IT director of field operations.
"They could choose what's best for their office workflow and what's best for patient interaction," Sol says.
Michael Starghill