Microsoft Surface Pro 4 Is a Secure Tool for Doctors on the Move
A precise interface and lots of power make this a useful tool for quick access to healthcare information and more.
Patient volume represents one of the greatest challenges for almost any modern healthcare facility. Equipping doctors and nurses with the tools they need to look up records and plan treatments as they make their rounds can go a long way.
But healthcare also requires those tools to be secure enough to keep data protected, and quick enough to prevent bottlenecks. The Surface Pro 4 fills that role.
Powerful enough to become a desktop replacement, and portable and secure enough to carry on rounds, the Surface Pro 4 switches instantly between roles as required.
Most Surface Pro 4 devices come with either an Intel i5 or i7 chipset. Our test unit had a 2.4-gigahertz i5, and nothing we threw at it slowed it down.
All types of business and productivity software performed well, opening in just a few seconds. When the optional keyboard attaches via a magnetic clip, the Surface Pro 4 functions, for all intents and purposes, as a desktop, running a full version of Windows 10 as well as every program available for that operating system.
Surface Pro 4 Protects Patient Data
Having both quick access to patient information and the ability to run tools that support it, such as databases, is great. Health Insurance Portability and Accountability Act privacy requirements mandate extra care.
All information stored on a Surface Pro 4 can be encrypted. Automatic encryption of all data did not lower the performance of our test unit, but it did slightly increase read/write times (measurable only using benchmarking software). Most users probably won't notice.
Despite the increase in power, the Surface Pro 4 also improves functionality when working as a tablet, with a long enough battery life to get through a full shift without requiring a recharge.
When running an HD movie, the device provided continuous power for 8 hours and 47 minutes, and more ­reasonable use may stretch that time even further.
It also recharges quickly, in just over an hour. A bank of Surface Pro 4 devices with rotating charges could easily support the constant operation of a busy healthcare facility.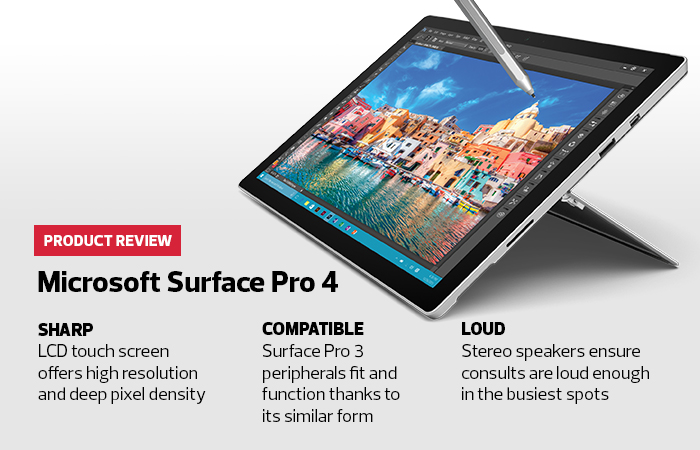 Windows Hello Introduces Facial Recognition-Based Authentication
It's a safe bet that a healthcare facility will become chaotic at times, and a doctor or nurse may set a device down to do something else. If that device contains protected patient data, or remains logged in to a site or database that does, such a simple act could result in a breach.
The Windows Hello secure login process can help avoid that. A built-in infrared camera that faces forward in the tablet's bezel works with Hello to allow users to introduce themselves, then stays on the lookout for them from there on out, paying particular attention to eyes and facial features. When an authorized user steps away, the Surface Pro 4 will automatically lock down and require a full login before starting up again.
So as not to become a burden for authorized workers, administrators can adjust the tolerances for Hello and the cameras, perhaps allowing devices to wait a full minute when not seeing an authorized face before triggering a lockdown. Users can also set the device to automatically allow access or trigger another full login with passwords or other protections. Organizations can tailor the security requirement of each Surface Pro 4 to their own comfort level.
Because the camera works within this type of security protocol, it functions in all lighting conditions. We tested ours in full daylight, standard office lighting, a dimly lit room and near darkness. Each time, our device recognized our facial features and logged us right on (as it was configured to do). We don't know of any other tablets using this type of technology to secure data in all conditions, and we think it will make a great prescription for security in a healthcare environment.