Review: The Zebra TC51-HC Is a Perfect Prescription for Mobility
Specifically designed for the rigors of healthcare, this handheld is ready for its residency.
Adding mobility to healthcare environments can be a huge boon for both efficiency and user satisfaction. But unlike some other industries, adding mobile devices to healthcare isn't as easy as authorizing a BYOD program. Devices must have a long battery life and be highly secure, able to run multiple applications and able to shake off (and clean off) any biological or chemical hazards that they come in contact with.
It's clear that mobility in healthcare requires dedicated devices designed specifically for that environment.
The Zebra Technologies TC51-HC looks like a beefed-up smartphone. It's a little bit bigger than most Android-based devices and has many more features packed inside, both in terms of hardware and software. Most of the extra girth on this 8.8-ounce phone is due to a special case that will protect the Zebra if it takes a tumble from as high as six feet onto a concrete floor. The case is also designed as a single piece so no fluids can seep inside, and it can be repeatedly sanitized as needed.
The heart of the system is an Android device that has been hardened to protect any patient data stored on it. This includes a FIPS 140-2 validated cryptographic module, Zebra's Mobility DNA platform with Mobility Extensions (Mx) for authorizing users, and software that constantly scans for configuration errors and takes corrective action if any are found. These features provide protection for any HIPAA-protected data the Zebra touches.
INSIDER EXCLUSIVE: Watch a video about new Zebra Technologies tools designed to improve care delivery.
Hardware Features for Healthcare Environments
The generous 5-inch screen can display images in 1280x720 resolution. The device also has a barcode scanner that works with both 1D and 2D barcodes for scanning patient wristbands or medication orders. Even the speakers have been enhanced, enabling calls to be played up to four times louder than on a typical cellphone, so conversations can be heard in loud environments such as a busy emergency room.
The unit has two cameras: a high-resolution camera facing forward and a standard-resolution one facing backward. This configuration enables telemedical applications, letting remote doctors see and diagnose patients while also conferring with local staffers. And battery life, even with compute-intensive applications, lasted more than 12 hours in my testing.
There simply may not be a better mobile device designed specifically for healthcare than the Zebra TC51-HC.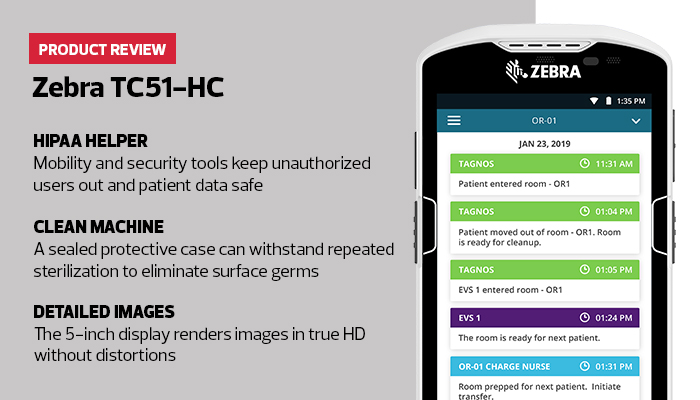 Zebra Takes on Tough Conditions in Healthcare
Hospitals are harsh environments for mobile devices. The Zebra TC51-HC is built to withstand challenging conditions, proving it not only has the brains to support healthcare professionals but also the brawn to stand up to the environment they work in. 
Devices that need to be hardened against factors such as shock (for instance, if the unit is dropped), vibration, water ingress and other environmental conditions generally measure their fitness against the military's MIL-STD-810G standard for ruggedness. And although it is unusual for nonmilitary devices to face such testing, the trying conditions of a healthcare environment make these good candidates for ruggedization. 
The Zebra TC51-HC has been ruggedized against shock, dust, water ingress, vibration, electrostatic discharge and temperature extremes.
PRODUCT REVIEW: The Panasonic Toughbook 20 is a study, practical device for clinicians.
How Tough Is the Zebra TC51-HC?
For dust and water, the one-piece design is rated IP67 and IP65 on the industrial protection marking scale. The 6 in both of those ratings means that no dust can enter the unit. Given that it's a solid piece, this was not surprising, though I did let it spin in a dust chamber for eight hours just to be sure. The 7 and the 5 indicate two different forms of water ingress protection, both of which were tested. 
First, the 5 means that jets of water can strike the unit from any direction and not harm the device or penetrate the internal components. The 7 means that it can be dropped into 1 meter of water for half an hour with no ill effects. The Zebra TC51-HC passed both tests easily. From a practical standpoint, it means that harmful chemicals or biological fluids from a healthcare environment can't get into the device, and that it can be sterilized using water or an alcohol-based cleaner without hurting the unit.
Vibration ruggedness is used to protect devices operating inside vehicles. The Zebra TC51-HC is rated for exposure to vibration from 20 hertz to 2 kilohertz for 60 minutes. I tested this using a shake table, and the unit was unharmed.
It can also survive the rapid transition from a 158-degree Fahrenheit environment down to negative 40 degrees and back again. That might be useful if staffers are, say, running out into an ambulance bay during a Minnesota winter to grab patients before running back inside. Given that those temperatures are not particularly friendly to the people who might be carrying the device, the range is probably sufficient to ensure that it will survive most anything a doctor or nurse would face.
I saved drop testing for the shock specification until last, because this is what often kills devices. The Zebra TC51-HC, however, did very well, thanks to its protective case and single-piece construction. I dropped the unit from up to six feet onto plywood over concrete, on every one of its surfaces, per the specification guidelines. It emerged without so much as a scratch and ready to go.
Not only is the Zebra TC51-HC well designed for healthcare, but it's rugged enough for the rigors of that environment and should perform flawlessly for years.
ZEBRA TC51-HC
Display: 5-inch capacitive touch screen
Processor: Snapdragon 1.8GHz ARM hexa-core 64-bit processor
Memory: 4GB RAM OS: Android 6.0 Marshmallow
Hard Drive: 32GB Flash Memory
Dimensions: 6.1x 2.9x0.73 inches
Weight: 8.8 ounces