Review: HP EliteBook x360 1030 G3 Provides Healthcare with Extra Security and Durability
An attractive aluminum case contains all the features medical professionals need.
HP's latest EliteBook, the x360 1030 G3 laptop, comes in an aluminum case that contains a variety of features that should appeal to healthcare professionals. These include a solid-state hard drive, bundled software, touch screen and the ability to work either as a tablet or a regular notebook. This flexibility enables it to accommodate a number of medical environments.
The review unit I tested came with an Intel Core i7 processor and UHD Graphics 620 chipset, with 1 terabyte of SSD storage and 16 gigabytes of RAM. It ran Windows 10 64-bit Professional.
Different Display Options Fit a Variety of Needs
HP has managed to cram in a 13.3-inch diagonal display in almost the same size case that Apple uses for an 11-inch laptop and what other Windows vendors use for their 13-inch diagonal screens.
The display comes in four options, all touch-enabled with Gorilla Glass 4 for extra durability, which makes it well-suited for medical settings. My unit had an enabled optional internal privacy filter called Sure View, which limits viewing angles and operates at 700 cd/m2.
Other displays operate at either 500 cd/m2 or 400 cd/m2 brightness — the former can deliver 3480x2160 resolution, while the other screens can pump out 1920x1080.
The EliteBook x360 also has two USB-C/Thunderbolt ports and one USB-A port, an HDMI port and an audio jack. It comes with support for broadband wireless networks from AT&T and Verizon; each unit has a nano-SIM slot for this purpose.
The laptop also includes robust audio features, including Bang & Olufsen speakers on top and bottom that are better than the built-in components of most laptops. The unit feels solid and should resist most bumps and other impacts.
The x360 laptop weighs just a hair less than 3 pounds; its battery lasted, on average, more than 8 hours and can recharge within an hour. The long battery life is especially useful for clinicians who are on the go all day.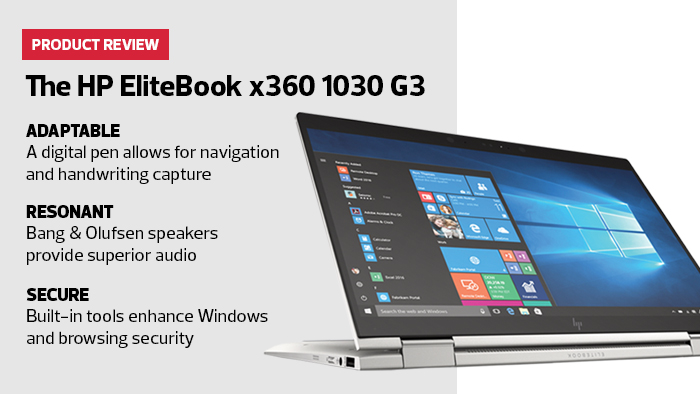 Healthcare Organizations Benefit from Security Features
HP's EliteBook x360 1030 G3 comes with a variety of additional features that are sure to please healthcare organizations, which must be mindful of protecting sensitive patient data. It supports the Windows Hello password-free login, using its built-in fingerprint sensor — which can be used for multifactor authentication— and software called HP Sure Run.
Sure Run also provides app protection by continuously monitoring critical services and preventing malware from making unauthorized changes to executable files. For healthcare organizations that have HP Endpoint Security Controller software, Sure Run can provide additional reporting and management. It is disabled by default, so IT managers will need to set it up with the HP Client Security Manager tool.
The x360 also comes with the Trusted Platform Module 2.0 chipset, which checks for OS tampering upon boot with HP's Sure Start software. IT administrators can access the laptop and make changes to security policies and prevent users from loading their own software.
HP EliteBook x360 1030 G3
Processor: Intel Core i7-865OU, 2.11GHz
Weight: 2.76 pounds
Dimensions: 12x8x0.62 inches
Hard Drive: 1TB SSD
Memory: 16GB RAM
Ports: 2 USB-C /Thunderbolt, USB-A, audio headphone jack, NanoSIM, HDMI
More On