How Health IT Executives Can Transform into Business Leaders
As patient care evolves, provider technology executives are growing more adaptive and thinking outside the digital box.
Every day, healthcare grows by leaps and bounds when it comes to technology advancements. And as organizations complete the move from paper charts to electronic health records and deploy more sophisticated connected medical devices, IT leaders must ensure the correct personnel are in place for digital success.
Simultaneously, however, they also must focus on the bigger picture: organizational growth, budget management and solutions vetting.
No doubt, ensuring that technologies are HIPAA-compliant and practical for patient care are critical responsibilities. But modern technology leaders — CIOs, CISOs, IT directors and others — can't rely on digital know-how alone; they also must blend business smarts with their enthusiasm and IT skills.
SIGN UP: Get more news from the HealthTech newsletter in your inbox every two weeks!
Leverage Your Staff for Tech Expertise
Throughout my career, I have held many roles. Starting out as an IT technician with a few ­specific certifications, I often leaned on the solutions I knew best and was most ­comfortable with to solve problems large and small.
But as my career has grown and I've transitioned from a frontline technician to an IT leader responsible for daily operations, I've had to step outside of my comfort zone and vet solutions based on advice from my colleagues.
Leveraging their knowledge of specific technologies and individual areas of expertise, they often serve as advocates for bleeding-edge and emerging tools that might benefit an organization, but may not necessarily fit the budget or cater to a specific issue.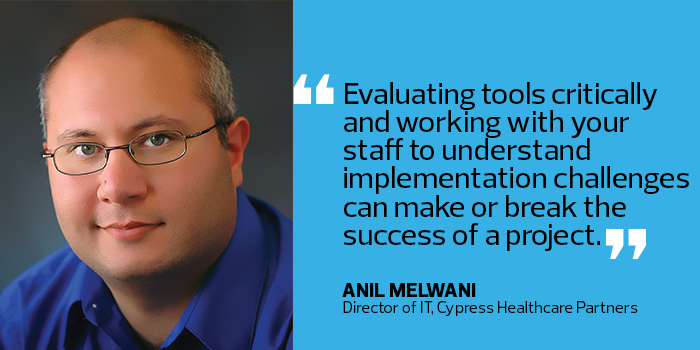 Technology executives must learn to analyze all solutions, both those they know and those with which they are less familiar. Evaluating tools critically and working with your staff to understand implementation challenges can make or break the success of a project and, to a broader extent, your role as a leader.
Such experience can help ensure that all solution reviews are productive, not presumptive, and that tool selection is balanced. This helps to establish that the best interests of the organization — and most important, the patient — are top of mind.
Never Lose Sight of the Patient Perspective
Another way health IT executives can evolve as leaders is by putting themselves in the patient's shoes. Think about what technology features would mean the most to you during a hospital visit: Is privacy a top concern? Easy access to information? Streamlined ­processes for registration?
It's not enough to merely think about how to ease your own frustrations as an employee; you must also consider how to satisfy the individuals you serve, as well as their family members. How will updates and implementations impact their experience?
Patient safety and satisfaction should always be top priorities.
Be Ready to Adapt to New Technology
Finally, IT leaders must also work closely with the user stakeholders most impacted by their decisions on the front line of patient care: the clinicians.
Poor technology usability and workflow can create frustration for staff who work day in and day out with vulnerable patients. It's up to us as executives to optimize productivity and minimize potential errors.
Provider technology executives have a responsibility to critically analyze solutions and strategies that meet the patient care, operational and financial needs of their organizations, and then use that knowledge to deploy technology appropriately.
The most successful leaders are adaptable; they can adjust paths based on the factors around them, and are willing to listen to and trust their staff, colleagues and patients.
monkeybusinessimages/Getty Images