Review: Lenovo ThinkStation P320 Tiny Offers Full-Sized Power for Healthcare
Despite its size, this workstation can handle applications of all types, making it ideal for healthcare professionals.
The Lenovo ThinkStation P320 Tiny lives up to its name, with a volume less than that of many laptops. Because the Tiny is also designed to be managed via the Intel vPro system, it is ideal for large deployments in busy settings, especially hospitals.
With heavy-duty processing power — including an Intel Core i7-7700T, an Nvidia Quadro graphics board and NVMe solid-state drive — the ThinkStation P320 Tiny can ­handle virtually any app that its larger counterparts can handle. The workstation also comes equipped with five USB 3.0 ports, which are handy when an adapter is required to connect to an older display or an external drive is needed to install from a CD or DVD.
SIGN UP: Get more news from the HealthTech newsletter in your inbox every two weeks!
External Power Offers Patients Peace and Quiet
Thanks to the external power supply, which eliminates one of the fans typical in smaller machines, the system is usually inaudible except when running heavy graphics loads. With its small footprint, the Tiny can be mounted out of sight on the back of a monitor (or tucked away underneath it), and both 10/100/1000 Ethernet and 802.11ac wireless are supported for networking.
In an environment where recovering patients require peace and quiet, this workstation is almost unnoticeable, especially when it's in low-power mode.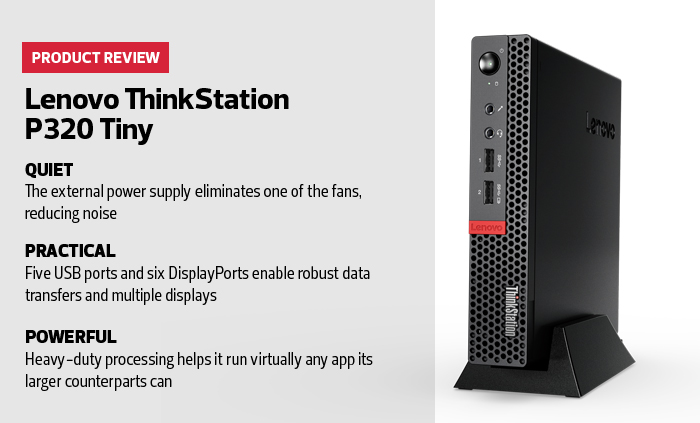 The Tiny also supports a number of independent software vendor certifications, including Adobe AutoCAD, Autodesk Inventor and Revit, Aveva Plant Design Management System and McKesson Medical Imaging.
Limited Exposure to Cyberthreats Keeps Providers Safe
Lenovo makes the Microsoft System Center Configuration Manager profiles available so that large installations can deploy Windows images and applications to the ThinkStation P320 remotely.
The Intel vPro system and Trusted Platform Module 2.0 allow secure remote access to the device, which ensures that systems can be patched without exposing them to hackers — a priority for healthcare organizations.
Additionally, with TCG Opal encryption, systems that are stolen cannot be accessed without a key. TCG Opal encryption also ensures that systems can be repurposed without exposing old data, because data on the SSD cannot be accessed without the encryption key; the SSD can only be reformatted.
Healthcare Professionals Tap Power and Speed
The Lenovo ThinkStation P320 Tiny's durability and versatility are added benefits for healthcare professionals. The workstation has passed a battery of military stress tests, including survival in extreme temperatures, making it more than ready for deployment in often chaotic medical settings. What's more, the Tiny can support six independent displays at once — convenient for clinicians viewing robust patient data sets.
For IT professionals, the ThinkStation P320 also offers practicality and efficiency. A door on the bottom of the workstation allows easy access to memory and storage upgrades, and also houses a wireless internal and external LAN antenna. And its quintet of USB 3.0 ports enables high-speed data transfers, crucial to patient care efforts, in which every second counts.
The ThinkStation P320 Tiny offers a lot of power in a very small package. The NVMe solid-state drive allows for superfast boot-up, and the processing power can handle medical images, as well as computer-aided design and manufacturing applications and other power-hungry apps.