Review: The NETGEAR ReadyNAS 428 Keeps Health Data Safe and Sound
Data storage gets an upgrade with this fast, robust and reliable solution.
Storing patient information safely and being able to accurately and quickly retrieve it when needed are the cornerstones of any modern healthcare facility. Losing records due to a mishap or disaster can make treating and monitoring patients difficult, to say nothing of the billing process. And having those records stolen is even worse, leading potentially to millions of dollars in fines for violating HIPAA rules.
With all those factors to consider, storage can be challenging for healthcare organizations. Thankfully, the NETGEAR ReadyNAS 428 eight-bay network-attached storage device can help, providing advanced security, ample storage capacity and usability typically found in much more expensive offerings.
SIGN UP: Get more news from the HealthTech newsletter in your inbox every two weeks
The ReadyNAS 428 Offers Healthcare Data Space to Spare
The ReadyNAS 428 comprises eight empty drive bays, all easily accessible without tools. Users can lock the bays in place to prevent accidental removal.
Populating the bays with 2.5-inch or 3.5-inch disks is easy: Just pop them into place and close the door. The ReadyNAS OS automatically formats new disks into the desired RAID configuration, adding their capacity to the overall storage pool. Users can thus start with only a few drives and expand later as needs grow; all drives are hot-swappable. The 428 supports a maximum capacity of 80 terabytes and up to 40 users, making it perfect for the entire staff of a branch office or clinic.
A Fast and Furious Connection Makes Data Protection a Breeze
A Gigabit Ethernet connection and the brand-new Intel Atom quad-core processor make read and write processes extremely fast. Users accessing the device won't see much difference between the 428 and their local hard drive when working with files.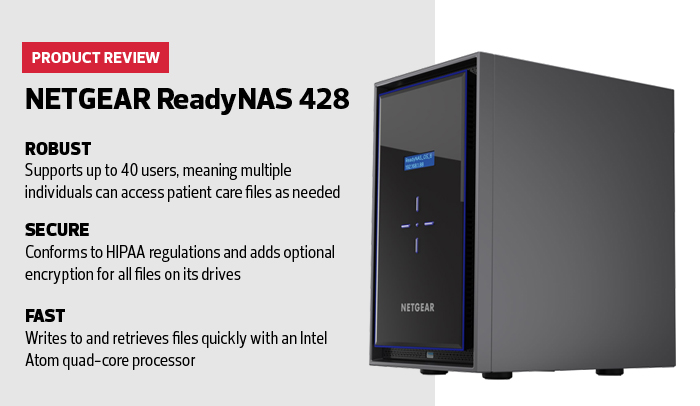 Once written, files are protected in a variety of ways. The ReadyNAS OS allows for unlimited snapshots, with backup data stored locally within the RAID stack or on another (potentially offsite) ReadyNAS device through the ReadyNAS Replicate feature. The device can also back up to any cloud service, providing ultimate protection against disaster-related data loss.
On-Demand Encryption Boosts Security
The 428 boasts a high level of security, including the ability to protect and encrypt specific files, such as patient records, and to restrict access to only those employees who need it.
Encryption is a primary function of the NETGEAR ReadyNAS 428's storage utilities. Like everything else about the 428, it's extremely simple to use: Administrators simply drop into the system utilities menu on the ReadyNAS OS and name the new volume. Checking the box to make the new volume encrypted completes the setup. Thereafter, everything stored within that storage volume — whether the entire device, or a few specific folders — will be encrypted.
Add a Secure Vault to Store Patient Records
Nobody wants to tell consumers that their personal records have been stolen. But in healthcare, regulations like HIPAA mean that data loss represents much more than a reputation hit; it can also equate to millions of dollars in fines.
One of the best ways to protect against data theft, beyond basic user and file level access rules, is to encrypt everything stored both locally and in backups.
There are several options for storing the encryption key. One method is to use e-mail. A much more secure plan is to generate a key on a USB drive or drives. Anyone who needs to pull files from the encrypted volume would need to provide a USB key, which creates a token-based security policy where only doctors, nurses and trusted healthcare staff would hold keys. In that scenario, if any patient records are stolen, they would be worthless without an accompanying key drive.
In testing, enabling encryption did not slow down access to data by a noticeable amount, likely due to the powerful Atom processor driving the 428. Encrypted data can also still be backed up to other NAS devices or the cloud, but it's sent to and stored in the new location already encrypted — a handy feature to have in healthcare, and one that the NETGEAR ReadyNAS 428 makes easy to deploy.
NETGEAR ReadyNAS 428 Eight-bay Network-Attached Storage Device
Processor: Intel Atom C3538 Quad-Core
RAM: 4GB DDR4 SDRAM
Free Drive Bays: 8
Capacity: 80TB
Dimensions: 10.9x7.6x12.2 inches
Weight: 19.86 pounds