Why Balance Is Key with Healthcare Data Center Deployments
As healthcare organizations evolve their infrastructure strategies, they must weigh flexibility with cost savings.
Balancing priorities is never easy for healthcare IT leaders, who must simultaneously select and deploy effective infrastructure technologies while also paring down overall costs and resource use.
Consider that the volume of electronically available information continues to rise as reliance on electronic health records, mobile tools and connected medical devices grows. Providers must use such tools to optimize accountable-care efforts that reward increased access to information, particularly across organizations, while managing the constant security threats from inside and outside their own walls.
To meet those demands, IT leaders must expand capacity, yet also remain mindful of spending.
It's no surprise then that organizations prioritize data center flexibility. For some, it means embarking on a hybrid strategy, splitting data between on-premises systems and private and public cloud services. For others, it means shunning physical data center assets altogether in favor of a dominant cloud information services offering.
When it comes to data center deployment for healthcare organizations, there is no one-size-fits-all approach.
SIGN UP: Get more news from the HealthTech newsletter in your inbox every two weeks
Slim Down the Data Center to Scale IT
At the Healthcare Information and Management Systems Society's annual conference last February, Sanjay Maru, director of enterprise architecture at St. Joseph Health in Irvine, Calif., discussed his organization's shift to a hyperconverged infrastructure (HCI). The move let St. Joseph Health scale out its regional and private cloud efforts, deployed in conjunction with a public cloud strategy.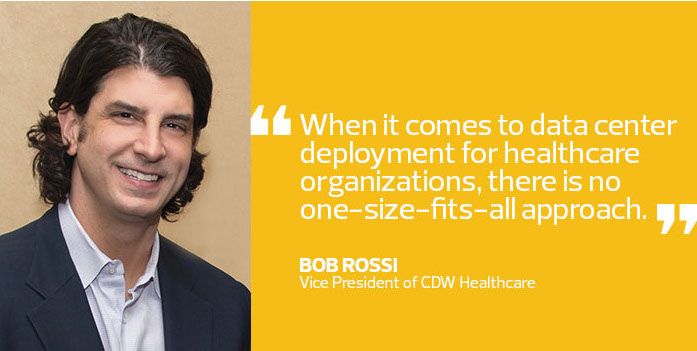 Overall, St. Joseph Health, which comprises 16 hospitals and 300 clinics across three states, cut its use of legacy hardware racks from six to one and reduced its costs while maintaining its commitment to capacity expansion.
St. John's Riverside Hospital in Yonkers, N.Y., and Wake Forest Baptist Medical Center in Winston-Salem, N.C., also have migrated to HCI, with the former seeing improved storage capacity and the latter bolstering research efforts around genomic sequencing for better cancer care.
Business Continuity Calls for a Backup Plan
Backup and disaster recovery capabilities also represent important considerations when choosing your data center approach. Both Rockledge, Fla.-based Health First and Springfield, Mass.-based Baystate Health focused on improving redundancy and resiliency when replacing their respective data centers. In particular, Baystate opted for a hybrid setup that takes advantage of hyperconvergence technology with a cloud backup provider to ensure business continuity.
John Halamka, CIO for Beth Israel Deaconess Medical Center in Boston, has frequently talked of his intent to expand use of public cloud at his organization to boost scalability, security, reliability and disaster recovery.
He's not alone. Nearly 54 percent of organizations surveyed for a 2017 HIMSS Analytics cloud brief said they use the cloud for their storage, backup and computing services. What's more, one-quarter of 112 healthcare CIOs surveyed by KPMG earlier this year said they plan to implement or invest in cloud computing infrastructure.
Before Upgrading Your Data Center, Assess Your Needs
Whether you opt for a hybrid setup for your data center that combines on-premises infrastructure and cloud, or you take an all-in cloud approach, it's important to first assess your business needs. In addition, you will want to determine baseline service-level requirements that are scalable. That will help ensure resources don't go to waste and expectations are met.
Balancing technology demands with financial priorities can make even the most experienced IT executive feel dizzy. Attention to detail and knowing your stakeholders' top to bottom-line needs will help keep your organization on a steady path.