Telemedicine Expansion Pushes the Boundaries of Care
The technology's use and support for coverage increase as evidence of success continues to grow.
For some patients, care can't wait.
When a sick child suffering from seizures entered a rural Maryland hospital's emergency department earlier this year, the need to treat the young patient was immediate.
The facility used telemedicine to consult with subspecialists at the University of Maryland Medical Center's Pediatric Emergency Department, who were able to expedite care before referring the child to specialists for further treatment. The incident outlines the value telemedicine brings to patients who need it most.
Telemedicine services have proved to be a financial boon for some organizations, as well, according to a November report published on behalf of the Centers for Medicare & Medicaid Services. Over a 15-month period from April 2014 through June 2015, an electronic intensive care unit program powered by telehealth technology at Atlanta-based Emory Healthcare saved the organization $4.6 million.
The hospital cut its 60-day inpatient readmissions rate by 2.1 percent over that time period.
Meanwhile, a report published in March by the NTCA Rural Broadband Association concludes that telemedicine holds "tremendous potential" for improving the quality of healthcare ­provided in rural America.
SIGN UP: Get more news from the HealthTech newsletter in your inbox every two weeks
Mercy Virtual: A Hospital Without a Bed
Mercy Virtual runs one of the more intriguing telemedicine operations nationwide. At its 125,000-square-foot, four-story campus, which opened in 2015, more than 300 specialized medical professionals provide 24-hour care to patients, yet the building contains not a single patient bed.
Instead, clinicians monitor patients in real time using online-enabled devices and two-way cameras at facilities in seven states: Arkansas, Kansas, Missouri, North Carolina, Oklahoma, Pennsylvania and South Carolina. Among its services, Mercy Virtual offers home-care monitoring for more than 3,800 patients, telestroke care for community EDs and remote screening for all patients admitted to inpatient facilities for sepsis.
For Widespread Telehealth Adoption, Hurdles Remain
Despite the potential benefits of telemedicine to both patients and providers, a lack of enforcement and awareness of parity laws — which require that private health insurers cover telemedicine ­services comparable to the way they cover in-person care — have caused a lag in participation by healthcare organizations, according to the American Telemedicine Association.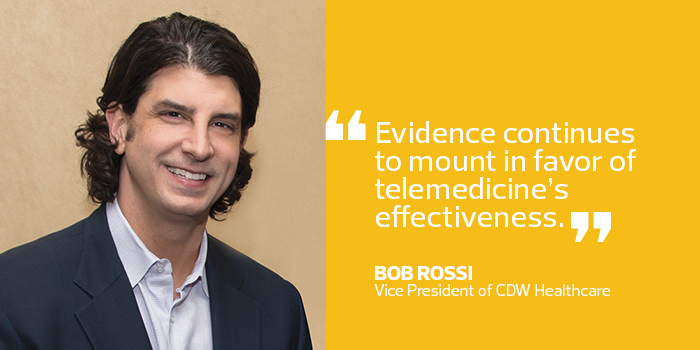 In its most recent telemedicine gaps analysis, which examines policies that govern telemedicine in all 50 states, ATA notes that "artificial barriers," including geographic discrimination and provider and patient location restrictions, are both "harmful and counterproductive."
Still, coverage and reimbursement hurdles to telemedicine appear to be shrinking, the report notes. All Medicaid agencies now cover telemedicine in some form, it points out.
What's more, as state legislators realize the benefits telemedicine can provide, they are taking increased action to ensure constituents aren't left out. Texas Gov. Greg Abbott signed a bill into law in May allowing patient-physician relationships to be established through telemedicine without a prior in-person visit.
Telemedicine Gains Legislative Support
Some federal lawmakers are also pushing for fewer barriers. In May, six senators introduced the Creating Opportunities Now for Necessary and Effective Care Technologies for Health Act of 2017, which aims to expand telehealth and remote patient monitoring authorized by Medicare.
One month prior, four senators reintroduced the Creating High-Quality Results and Outcomes Necessary to Improve Chronic Care Act of 2017, which looks to ease the process for Medicare Advantage plans to offer telemedicine as a benefit.
Evidence continues to mount in favor of telemedicine's effectiveness. As legislative support grows and coverage gaps close, expect to see more organizations taking advantage of the technology.
KatarzynaBialasiewicz/Thinkstock