How Tech Is Building Smarter Patient Rooms
Hospitals across the country are upping patient care and provider communication with low-cost, high-pay-off devices.
When IBM approached Jefferson Health system in 2016 about partnering to develop and deploy patient-centered applications for an Internet of Things bedside device powered by Watson artificial intelligence, executives at the Philadelphia-based organization jumped at the chance.
"Our CEO and CIO strongly believe that we have to not only innovate, but transform the patient environment," says Jefferson Health Chief Digital Officer Neil Gomes. "This was one of those transformative ideas."
Those conversations culminated in Thomas Jefferson University Hospital (TJUH) equipping six patient rooms with the IoT platform. The device, which resembles a clock radio, will allow patients to control several functions through voice commands. Patients can adjust room lighting and temperature, for instance, and obtain on-demand information about clinicians and services provided, Gomes says.
By augmenting patient rooms with smarter, more innovative devices, providers like TJUH, the University of California, San Diego (UCSD) and Los Angeles-based Martin Luther King Jr. Community Hospital not only improve the patient experience, but also help to ease workloads for busy clinicians.
Digital Tools Driving Patient Satisfaction
Providers increasingly roll out such tools, driven largely by the goal of enhancing patient satisfaction, says Harry Wang, senior director of research at Parks Associates. Hospital Consumer Assessment of Healthcare Providers and Systems (HCAHPS) surveys, which measure matters that relate to satisfaction, including communication with and responsiveness of clinicians and staff, reward organizations financially for high scores while punishing them for low marks.  "Many hospital executives feel their investment in interactive systems that essentially turn patient rooms into smart rooms is justified as long as it can be measured against patient satisfaction through HCAHPS scores," Wang says. 
He expects to see such transformations become more widespread in the coming years, though the change won't happen all at once, Wang says. "Adoption will be uneven," he says. "Each hospital faces a different set of business priorities and financial realities."
AI Smarts Expedite Patient Questions
Expanding the capabilities and use cases of the Watson-enabled system are a priority for Gomes and his colleagues at Jefferson Health. If a patient wants information about the doctors on a care team, for instance, a query about the doctor must include the physician's name. Soon, though, more general requests such as "tell me about my physician" will also be handled by the tool, Gomes says.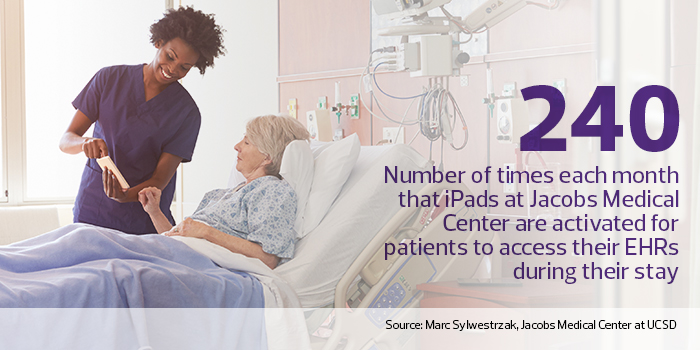 ​Other forthcoming functions will include providing clinical information to patients and caregivers, including diagnosis information and playing back patient questions to physicians, as well as the ability to answer questions about discharge instructions.
So how does the device work?
A microphone built into the device deployed at TJUH transmits patient queries as audio files to Watson. The AI platform then employs natural-language processing capabilities to translate the audio into text. 
Watson scans the text for trigger words to determine the nature of the question, then uses those words, the surrounding context and other data to find the requested information via a secure application programming interface. The bedside device then transmits the data, formulated as an audio response, "all of which takes place in about two seconds," Gomes says.
Gadgets are Putting Patients in Control
At UCSD's Jacobs Medical Center, iPad devices and Apple TVs put patients admitted to the facility in control of their surroundings. 
Allowing patients to view and share their electronic health records (EHR) is the primary goal of deployment. Patients also can use the tablets to control their rooms' blinds, lights and thermostats.
Jacobs just added an in-house survey to the iPads, and his team queries staff at regular intervals to gather ideas for improving workflows associated with the tablets.
Marc Sylwestrzak, director of internet services, experience and development, carefully monitors the impact of the program using those surveys, as well as through HCAHPS scores.
"For the most part it's been all positive on the patient side," Sylwestrzak says.
The IT staff manages the setup using a Jamf interface, which also allows for automated remote wiping of the iPad following a patient's discharge. That helps to safeguard highly sensitive information that may be stored.
The Jacobs staff also relies on an array of wired and wireless Cisco Systems networks to ensure maximum device performance. 
Increasing the Decision-Making Data Haul
Martin Luther King Jr. Community Hospital in Los Angeles went smart through a mix of care phones, patient-monitoring beds and connected devices. Glucometers, vital signs equipment and Philips monitors feed information directly into the hospital EHR, and patient rooms are equipped with a station that allows for record viewing, meal ordering and game access.
"This technology provides information and data for patients and clinicians to make decisions," says Danny Lujan, director of health IT operations.  MLK runs it all on a Cisco network infrastructure, which includes a virtualized server environment. IT support, a round-the-clock operation, is also located offsite in Detroit.
"Hospitals run seven-by-twenty-four, and you can have technology issues at any time throughout the day or the wee hours of the night," Lujan says.
Good Tech Cultivates a Win-Win Situation
For Gomes and Jefferson Health, the technology rollout constitutes a double win. Patients will enjoy an enhanced experience while the health system tests new and innovative approaches to improving its processes.
What's more, Jefferson Health hasn't needed to hire additional IT support staff or spend extra money to support the devices, as they are easy to initialize and manage, and use very little bandwidth, Gomes says.
"The goal was to design a low-threshold, remotely managed, easy-to-clean, easy-to-use device that makes patient stays more comfortable and gives them a simple way to access information," he says. Time spent with doctors and nurses will focus on care, not on finding out the weather or the lunch menu, Gomes adds.
Colin M. Lenton