Argentum 2017: How Technology Contributes to an Evolving Resident Experience
As seniors and their families become more tech savvy, demand grows for tools to keep pace with those needs.
Technology is one of many tools necessary to win the trust of both seniors moving into independent living facilities and, just as importantly, their family members. That was the message delivered by senior living executives during a panel session Tuesday at the Argentum Senior Living Executive Conference in Nashville, Tenn.
Loren Shook, president and CEO of Silverado Care, which runs memory care communities in six states, said it's the job of senior living facilities to both restore a sense of normalcy for residents whose daily responsibilities are dwindling, and to maintain regular contact with family members. To do so, he said, such facilities must meet both parties on their own terms.
"The younger generation wants their emails and their texts," Shook said, while the older population often prefers phone calls.
Charlie Trefzger, president and CEO of Hickory, N.C.-based Affinity Living Group, echoed those sentiments, saying that transparency and communication via email and web portals have become increasingly important.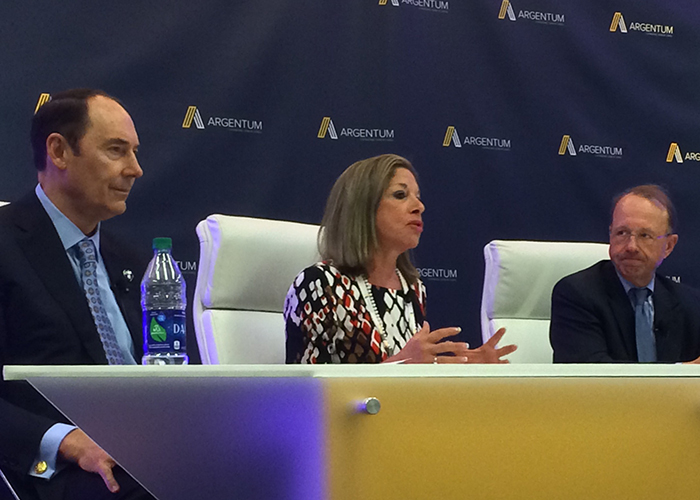 Senior living executives talk about the power of tech at the Argentum 2017 conference. Photo credit: Dan Bowman
"We have to hold ourselves out as being highly accountable for our actions — and being responsible for the outcome," he said.
Patricia Will, co-founder and president of Belmont Village Senior Living, which runs communities in seven states, said such tools are keeping potential residents better informed and more participative. For instance, at a recent facility opening, many seniors were very active and "taking control of their own fate," thanks to easily available online information, she said.
"Ten years ago, I would have seen the [potential residents'] kids, and then they would have gone home and talked to the parents about this wonderful idea that they saw," Will said. "The seniors are now much more informed."
Such demands are forcing organizations to improve foundationally, said Shook, who also serves as chairman of Argentum's board of directors. Facilities today, for instance, must beef up their Wi-Fi capabilities to satisfy requests for stronger equipment from residents and their families, he said.
"The baby boomer and younger populations want to see tech," Shook said. "They want to see how are we using tech. They like that."
Even with such available tools, however, engagement must be a concerted effort, Will said, as residents are prone to social isolation. "Engagement has to be embedded in the culture and protocols [of an organization]."
Read articles from HealthTech's coverage of Argentum 2017 here.
moodboard/Thinkstock
More On