How Nonemergency Medical Transportation Leverages Ridesharing Services
Learn how Uber, Lyft and taxi services are providing nonemergency medical transportation for patients through rideshare app integrations.
App-based rideshare services, such as Uber and Lyft, have already shaken up the taxi business. Now, these businesses and taxi services are seeking to disrupt nonemergency medical transportation, and health systems are happy for the assistance.
A 2013 meta-analysis in the Journal of Community Health identified nine different studies that correlated the availability of transportation with access to care. One study in the Journal of Immigrant and Minority Health found that lack of a ride caused 25 percent of suburbanites in the survey to miss at least one medical appointment. Some patients wait until they have an emergency, or simply call 911 when they need primary care.
"We are not built to handle primary care issues," Dr. Michael Gonzalez, deputy medical director for the Houston Fire Department, told an audience at last month's Healthcare Information and Management Systems Society (HIMSS) conference in Orlando, Fla.
Taxis Connect Patients to Primary Care
Since late 2015, the Houston Fire Department has teamed with the University of Texas Health Science Center to deliver telemedicine services for ambulance-based triage. Emergency medical technicians carry 4G LTE-enabled tablets to connect to emergency services, a nurse help line, a network of primary care clinics and even to a taxi service for transportation.
"We're prepaying taxi vouchers on the premise that a Yellow Cab is a lot less expensive than an ambulance," says James Langabeer, professor of clinical informatics at UT.
But the Houston system could still improve, based on the observations of several who have opted for modern, internet-dispatched rideshare services.
Ridesharing Apps Get You to the Doctor on Time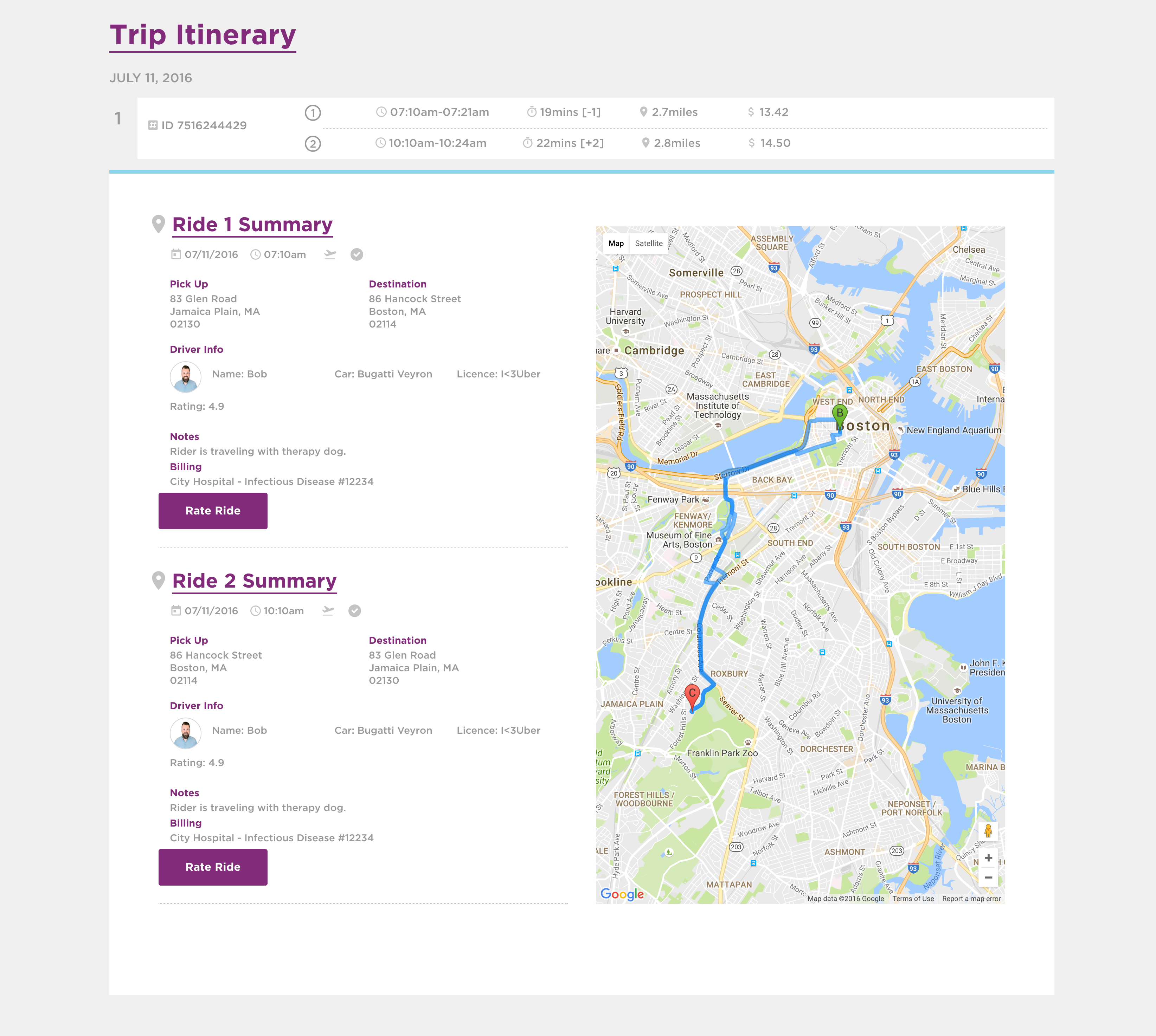 Circulation rideshare trip receipt. Photo courtesy of Circulation.
Circulation, a Boston-based nonemergency medical transportation company, took advantage of Uber's application programming interface to build ridesharing into its own dispatch platform. Circulation has launched pilots with Boston Children's Hospital, Mercy Health System in Pennsylvania and Nemours Children's Health System in Delaware.
"A year ago, there were two options for nonemergency transportation: taxi vouchers or brokers," says Circulation co-founder and CEO Robin Heffernan. Brokers can take several hours to have rides lined up, while taxis can be unreliable. Rideshare services deliver in a matter of minutes and riders can see right on their phones exactly when drivers will arrive. "We are trying to reduce no-show rates. We help with the discharge process."
The Circulation platform checks patient insurance eligibility and schedules pickups, including intermediate stops. "We do find that people are stopping at pharmacies on the way home," Heffernan explains, adding that Circulation also has a real-time analytics page for its customers. "With taxi vouchers or brokers, it's very rare that people understand what they're spending."
Healthcare Providers Push Rideshare Partnerships
MedStar Health, a 10-hospital system serving the Baltimore/Washington, D.C. region, entered into a partnership with Uber in early 2016 and now offers a widget on its website for patients to request rides.
"This is particularly useful for people with chronic conditions who have frequent appointments," says MedStar Health Chief Digital Officer Michael Ruiz. "Uber has also helped address a common stressor of navigating traffic and finding parking. With Uber, patients can be dropped off at the door — and that can make a big difference for someone who is experiencing illness or injury."
MedStar also provides a web-based ride management system, UberCentral, to its case managers so they can order rides on behalf of patients. Since not everybody owns a smartphone or is comfortable with mobile apps, patients can opt for an automated phone call, text, or emailed website link to track the assigned driver's arrival, Ruiz notes.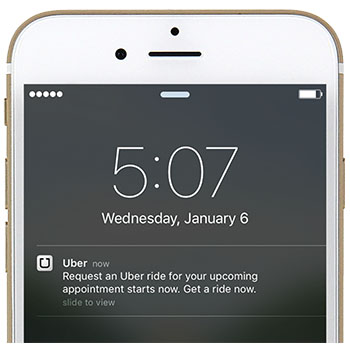 In perhaps the biggest healthcare rideshare deal to date, Logisticare, a transportation firm based in Atlanta, announced a three-year partnership with Lyft last month, covering at least 276 cities in 31 states and Washington, D.C.
Lyft began its healthcare work in early 2016 via a pilot with nonemergency medical transportation company National Medtrans Network in New York City.
"Since Lyft has long been on a mission to reconnect people and communities through better transportation, we're making sure people who need rides most are able to get them, starting with a new partnership and a new product being piloted in NYC," the rideshare company announced in a blog post.
Lyft reported an initial 28 percent increase in patient satisfaction among those taking part in the pilot, mostly senior citizens.
"Among our favorite patient stories is one of an elderly woman who relied on taxicabs to transport her to some routine medical appointments. She was accustomed to calling a cab, then starting her routine to get ready as she waited about 45 minutes for her ride to show up. The first time she called an Uber, the driver arrived within 10 minutes, to her surprise, and she still had her hair in curlers," says MedStar's Ruiz.
Circulation