How AI Is Fueling the Healthcare Industry of the Future
Innovations in hardware, software and artificial intelligence are coming together to unite disparate healthcare systems and bring the doctor to patients' homes.
Thanks to AI, the doctor of the future is at your service and available for house calls. Beginning March 7, Amazon's AI-powered Alexa can offer users advice on health-related topics, including symptoms, treatments, drugs and side effects, through popular health-information website WebMD.
Now, instead of heading to the website, users can simply ask Alexa about a specific topic. For example, saying "Alexa, ask WebMD to tell me about Type 2 diabetes" will elicit a physician-reviewed response, "in plain, accessible language," according to a statement on the new capability.
"There are a number of reasons that voice-enabled interfaces are growing in popularity — they are generally hands-free, people can talk faster than they type, and when done right, they make it easier for consumers to quickly and easily get to the information they need," WebMD Vice President Ben Greenberg, whose product team developed the new voice capabilities, said in the release.
Amazon has also recently tied Alexa into Healthtap's Dr. A.I., a system that promises to unite patients with doctors 24/7. It also helps point users to doctor-recommended clinical insights and care.
This is just one way that AI is pushing the envelope on delivering healthcare services and information. And it's not just entering homes, but doctor's offices and hospitals as well, promising to unite new technologies and streamlining health delivery and management while maximizing how much time doctors can spend with their patients.
AI-Powered Startup Moves Health Technology "Forward"
In San Francisco, an AI-powered doctor's office is putting health technology front and center. Forward, launched by Google employee Adrian Aoun in January, uses technology like the company's body scanner, real-time onsite blood testing, genetic testing and software to build a complete baseline of a patient's health.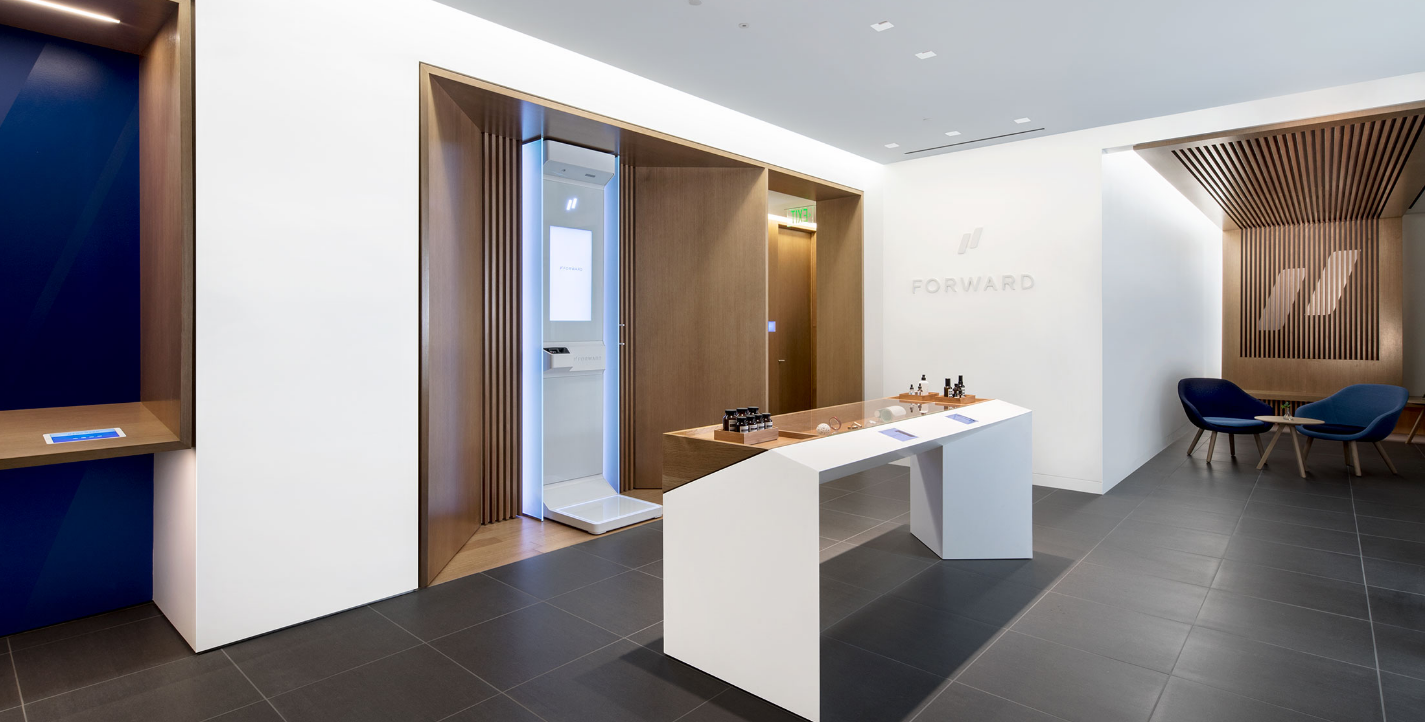 Photo courtesy of Forward.
From there, a team of doctors and nurses continues to reach out about a patient's health using data from the patient's baseline, combined with ongoing data from wearable sensors like health apps on a smartphone and Bluetooth or WiFi-connected health devices. In a blog post on Forward's site, Aoan says the system was built around technology to give doctors "superpowers":
They use software that integrates all your data — from genetics, to blood testing, to sensors at home — to help you proactively instead of waiting for issues to arise. They spend more time with you because we built systems to handle their administrative tasks for them. They look at more risk factors because we automated many common tests and procedures. They make smarter decisions because we built algorithms and A.I. to tie those decisions to data.
As of now, the first location of the AI-powered doctor's office handles primary care, men's and women's health, nutrition and health coaching onsite. Patients can also access round-the-clock care through the company's smartphone app.
Moreover, the system threatens to change the entire healthcare deliver model with memberships that bypass insurance providers and offer patients unlimited care for just $150 a month.
Microsoft and UPMC Partner to Unite Tools Across Disparate Healthcare Systems
Healthcare technology providers, such as Microsoft, are quickly jumping on board with the doctor's office of the future. In partnership with the University of Pittsburgh Medical Center, Microsoft's AI and Research Group has launched its Healthcare New Experiences and Technologies (NExT) initiative, which aims to enable a new wave of healthcare tech innovation using Microsoft's AI expertise and cloud, Microsoft Azure.
Photo Courtesy of Microsoft.
The initiative looks to make use of tools like Microsoft Office 365 Virtual Health Templates, a voice, video and messaging collaboration solution, as well as the company's healthcare chatbot and technology throughout the provider ecosystem, such as CGI Proper Pay, which aims to reduce healthcare claims fraud, waste and abuse through predictive analytics, rules management and best practices.
"Despite UPMC's efforts to stay on the leading edge of technology, too often our clinicians and patients feel as though they're serving the technology rather than the other way around. With Microsoft, we have a shared vision of empowering clinicians by reducing the burden of electronic paperwork and allowing the doctor to focus on the sacred doctor-patient relationship," Steven D. Shapiro, chief medical and scientific officer of UMPC and president of UPMC's Health Services division, said in a post on Microsoft's blog.
Forward