At Halifax Health, a Foundational Technology Transformation
Servers and storage are a primary focus for one hospital's support upgrades.
Six years ago, the IT infrastructure at Halifax Health was in critical condition. Frequent network outages plagued the largest healthcare provider in east central Florida, and the data center was at capacity, filled with a hodgepodge of hardware, Vice President and CIO Tom Stafford says.
Simply walking from building to building involved navigating multiple wireless networks.
"Our infrastructure was antiquated and a constant challenge," Stafford says. "We had two disparate wireless systems. It was a very old network and required weekly, if not daily, repairs."
Thanks to a complete overhaul of the nonprofit hospital's information systems, Halifax Health experiences less downtime. Upgraded servers, storage and wireless networks allow clinicians to deliver patient services with fewer interruptions. For many hospitals, similar implementations ultimately serve as a strong foundation for driving flexibility and efficiency, for more seamless care.
The transformation began when Halifax Health, based in Daytona Beach, virtualized 95 percent of its 200 physical servers in the data center. The hospital now has more than 700 virtual servers running on a Cisco Systems Unified Communications System, says Stafford.
"The most important thing we did in the past five years is standardize everything so we have consistency throughout the organization," Stafford says. "It allows us to support a large base of users with fewer resources. So even though we have 700 servers, we only need two team members to support them, because every server is exactly the same."
Reducing Time Spent Patching
Virtualizing its entire electronic health records system also allows Halifax Health to complete server patching in a much shorter time frame, he says.
A virtual server can be rebooted in seconds instead of minutes. The hospital used to average 40 hours per year of planned downtime because of server patching, but now averages 14 hours, Stafford says. His team upgraded its aging network with Cisco switches throughout the enterprise and deployed three tiers of EMC storage. The storage takes advantage of fully automated storage tiering, enabling providers on hand to collect and move patient data without worrying about bottlenecks.
When Silver Cross Hospital moved from a 100-year-old building in New Lenox, Ill., into a brand new facility five years ago, it also took the opportunity to give its tech infrastructure a long-overdue overhaul.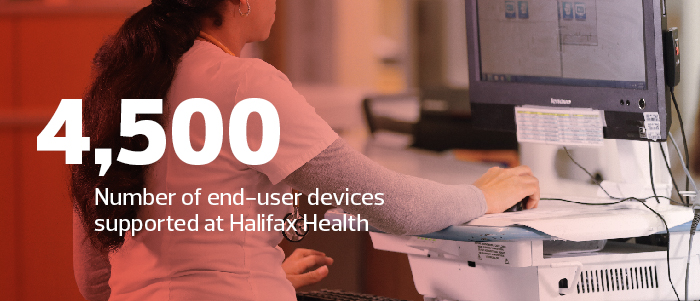 Supplying Patient Data Access on the Fly
Among those efforts, Silver Cross installed a new wireless network deploying Cisco UCS.
The Wi-Fi network handles information from patient glucose monitors, electrocardiograms and IV pumps via a dedicated virtual local area network, in addition to data from computers, IP phones and security cameras.
The goal was efficiency: to get as much patient data into the hands of doctors and nurses as possible, where and when they needed it.
"It's not always possible to keep devices tied to one location near patients and caregivers," says Kevin Lane, vice president and CIO for Silver Cross. "The new wireless capabilities allow us to be more mobile within the floors of the hospital."
The hospital also added wireless antennas in elevators and patients' rooms, to avoid interference from hospital equipment and ensure no dead zones existed for providers accessing patient data on the move.
In addition to those upgrades, Silver Cross installed a computer next to each of its 296 beds, which enables ­physicians and nurses to access and update each patient's electronic health record on the spot.
"We designed it so physicians and nurses could do their documentation at the patient's bedside, placing their orders and administering medications," Lane says. "That allows them to scan in barcodes for medications, patients and themselves to ensure the right patients get the right medications at the right time."
Patients are more savvy than ever when it comes to technology, Lane says. That's led the hospital to improve foundationally, which has allowed the deployment of other tools such as portals that help patients schedule appointments or pay bills online.
"We're trying to bring more of a consumer technology focus to our market," Lane says.
EHR Helps Mitigate Errors
At Lucile Packard Children's Hospital Stanford in Palo Alto, Calif., reliable servers, storage and wireless networks enable physician scientists and nursing leaders to concentrate on collaboration with researchers and Bay-area tech companies to take innovative strides with patient care, says Chief Medical Information Officer Natalie Pageler. In particular, Pageler notes, a solid foundation allows the hospital to build tools on top of its electronic health record system that help to mitigate opportunities for human error.
"Our EHR gives physicians the power to make decisions about the right care for their patients, but it double-checks all of the human processes in place, from the actual order to delivery of medicine," Pageler says.
To support around-the-clock patient care, "hospitals like ours need to ensure that the infrastructure is robust," she says.
Virtualization Enhances Reliability
Halifax Health's new IT outlook comes with other benefits, as well. The virtualized data center offers built-in redundancy with no single point of failure; if server hardware fails, no one outside IT should ever know.
And because Stafford's team is no longer required to spend all its time keeping the network online, tech staff can focus on more important things like improving quality of service for users. That, he says, leads to higher employee satisfaction and better retention.
"The core of it is, we never want IT to be an obstruction," Stafford says. "The nurses and physicians have enough on their minds trying to provide the best healthcare to the patients we serve. We want to make sure their gear works for them."
Additionally, Halifax Health implemented a single homogenous wireless network that extends across the organization's two hospitals and 31 satellite offices, encompassing nearly 2 million square feet of office space.
Aside from being easier to access, the new network is also more reliable; Halifax Health's main campus network has not experienced an outage in more than a year.
"In the past, when you ran a hospital, you couldn't let the lights go out," Stafford says. "Today, you can't have IT go out. When you need to maintain complete electronic health records, you always have to be up. Having reliable technology allows the clinical staff to care for patients without having to worry about the system not working for them."
Cy Cyr