How Healthcare Providers Manage Growing Wireless Environments
Segmentation and standardization are among the strategies deployed by network administrators to get the most out of the network and reduce risks to patient care.
Thousands of Wi-Fi-enabled devices each day help both clinicians and staff care for patients at Detroit-based Henry Ford Health System.
The equipment — which ranges from IV pumps, mobile X-ray units and ultrasound machines to Datalogic barcode scanners and Zebra mobile computers — delivers critical medication and data to patient rooms in the busy six-hospital organization.
While such devices create convenience for both doctors and patients, the setup would not be possible without a robust and reliable wireless network, says Ali Youssef, a senior mobility architect at Henry Ford. Platforms for centralized management, network access control and performance analysis power the system, in addition to thousands of access points.
"Thanks to Wi-Fi, many tests can be provided at the bedside for the convenience of patients," Youssef says.
Henry Ford isn't alone, as wireless access has evolved from a complementary luxury to a core resource for organizations. Healthcare providers nationwide are taking Wi-Fi to new levels thanks to growing demand for seamless, untethered care and a state-of-the-art patient experience.
Mobility Enables On-the-Fly Healthcare Productivity
Mobility makes doctors and clinical staff at Dallas-based Baylor Scott & White Health more productive, Vice President of Technology and Infrastructure Jerry Hinson says. It frees them from trips to wired computers to view electronic health records and other important information about patients, who in turn use Wi-Fi to stream entertainment during long hospital stays.
The health system relies on Cisco ­networking gear, including more than 50 pairs of model 5510 and 5520 wireless controllers and 8,000 model 3700 and 3800 APs. To optimize performance and quickly spot potential bottlenecks, Hinson and his staff use the Cisco Prime network management suite and the SolarWinds network monitoring platform.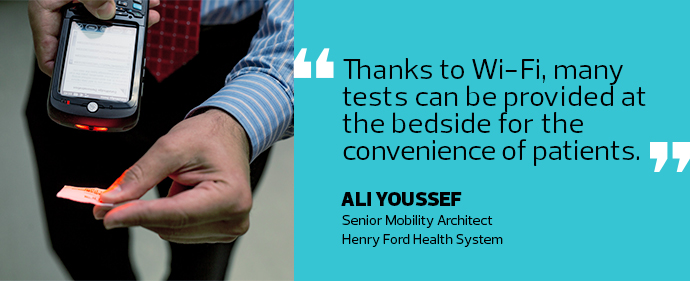 Maintaining desired performance ­levels requires constant oversight, Hinson says. When choosing gear, he advises network managers to properly vet vendors, comparing the reliability of their wireless products and whether they offer the proper technical resources to support a viable solution. To reduce performance problems, Hinson limits the number of ­networks he deploys.
"With more than four, the airspace becomes disrupted by network signaling, creating congestion," he says.
He also avoids using the 2.4-gigahertz ­frequency where possible.
"There just aren't enough channels available, which can create disconnects, contention and overall poor network performance," Hinson says. "5GHz is always preferred, and devices should be fixed to only use that frequency."
Strategize Segmentation to Avoid Network Overloads 
Even with the latest APs and controllers in place, spikes in usage can overload networks quickly. Severe repercussions result if patient care in emergency situations is delayed. To manage high traffic volumes and large image files over Wi-Fi, Henry Ford segments clinical and public wireless access, an essential move since traffic from patients and guests far surpasses that of caregivers.
The system further segments the internal network into one link for patient care and medical devices, and another for hospital staff access. That enhances performance and security by limiting devices to only the resources they need. For instance, IV pumps connect to one server and a specific port on that device, rather than having access to the entire network or the internet.
To further lock down security, Henry Ford uses advanced encryption to protect sensitive data in transit. Youssef also helped to establish an onboarding process that evaluates the security capabilities of devices before they're allowed to connect to the Wi-Fi network.

Wearables and Internet of Things devices or endpoints — many of which run basic operating systems and don't ­support advanced authentication and encryption — present even greater challenges, Youssef says.
"We support the medical device gold standard that allows us to push or revoke certificates to devices as needed," he says.
Reflecting his security concerns, Henry Ford's Wi-Fi policy limits how life-critical devices use and access the wireless network. For now, clinicians using IV pumps can wirelessly download related drug libraries, but managing dosages is not permitted. That could change if the gold standard and other controls become more widespread for medical devices.
"Like other health systems, we will routinely review our protocols to determine if there's merit from both a quality and safety standpoint for expanding the type of data that is sent over Wi-Fi," Youssef says.
Keep an Eye on Healthcare Analytics to Lighten the Load
Indiana University Health, located in Indianapolis, sees more than 6,100 active wireless connections each week on its internal network. Doctors create much of that demand, says Derek Dunn, the provider's executive director of information systems infrastructure and architectural services.
"The doctors are often overwhelmed by all of the documentation forced on them by regulations," he says. "The more they can get done on the fly, the less that burden proves to be at the end of the day."
IU Health runs around 9,000 Cisco APs, all supporting the latest 802.11ac protocol, with many using 802.1X for authentication, Dunn says. To closely control devices that don't support the latest authentication or transport standards, the organization also segments its wireless network.
"If something doesn't support anything beyond WEP, for example, I'll sanction off that device," he says.
Dunn takes a big-picture approach to maintaining IU Health's Wi-Fi ­performance. Many organizations buy APs based on the greatest theoretical throughput rates, he says, but then will fail to consider the entire infrastructure.
"Performance isn't only about the APs," Dunn says.
To find the proper throughput balance, he and his team analyze subscription rates to each AP to keep any one from overloading. They also factor in line speeds between APs and network switches, and the prevailing uplink speeds between switches and the distribution infrastructure.
"We are constantly trying to balance those equations," Dunn says. "Bottle­necks can form at any of those points, and those problems ultimately will define your throughput."
The balancing act could receive some reinforcements in the future, he says. IU Health recently started evaluating the use of predictive analytics technologies with an eye on potentially taking a more proactive approach to its overall wireless management.
"We are investing a serious amount of time, and in some cases money, looking into the deployment of predictive analytics tools," Dunn says. "Being able to analyze streams of data and act early on what we're seeing, rather than having to react to alerts and delays, could be extremely important for maintaining high performance."
Nick Hagen