Single Sign-On Benefits Workflow, Security for Healthcare Organizations
As the use of apps grows, SSO technology helps streamline workflow and cut costs.
Clinicians use seven applications a day, on average, to complete their workload at Baystate Health, including apps to access electronic health records and the care organization's picture-archiving and communication system. And until recently, each application required its own, disparate login.
That meant signing on to each tool dozens of times per day; it slowed down staff to the point that many implemented makeshift shortcuts to streamline processes. That doesn't fly in the Springfield, Mass.-based system that comprises four hospitals and 90 medical groups, serving 900,000 patients annually.
"You had physician assistants and nurses signing in for doctors so they wouldn't have to remember their passwords and they could come into a room and start working immediately with patients," Vice President and CIO Joel Vengco says.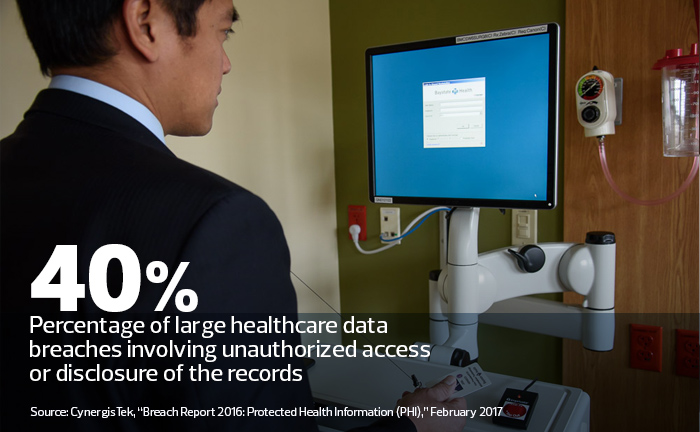 Last year, Baystate deployed Imprivata's OneSign single sign-on solution, one department at a time, over a six-month period. The tool negates the need to enter multiple usernames and passwords by offering a single login option (such as a proximity card reader). In the five months following implementation, it saved the system nearly 1,800 hours of employee login time. 
Single sign-on solution deployments also help healthcare organizations improve privacy and cut redundant costs.
Improving Hospital Security and Satisfaction
For most health systems, security improves so well after deployment that it allows employees to do other things that, in the past, simply weren't possible, says Dan Czech, an analyst with KLAS, an Orem, Utah-based healthcare technology research firm.
"One use case is the e-prescribing of controlled substances," he says. "Previously, you couldn't prescribe those drugs electronically, but when you can confirm an electronic prescriber is who they say they are, that makes it possible." 
Improved workflow and security bolstered clinician satisfaction for Stony Brook Medicine on Long Island outside New York City, Chief Technology Officer Tom Consalvo says. 
"The nice thing is that it doesn't let you sign on in more than one place at a time," he says. "If you sign on and you're already signed in elsewhere, it automatically logs you out of the other workstation. There are serious security benefits there."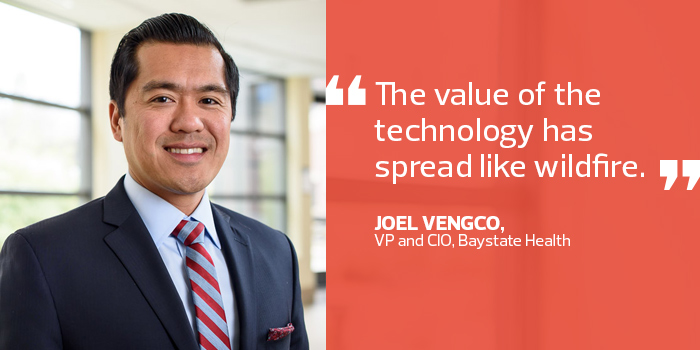 Similarly, satisfaction has improved at Baystate. Doctors, nurses and other hospital personnel use access cards to tap their way into systems and applications, and appreciate the ability to log in to applications without having to continually enter the same information over and over as they change settings.
"The value of the technology has spread like wildfire," Vengco says. "It is the first technology that we've ever had people request. Clinicians are actually thanking me because, with the time saved every day, they are able to see another patient or write their notes or just have some downtime."
Saint Peter's Healthcare System Scores an SSO Win
Meanwhile, at Saint Peter's Healthcare System in New Brunswick, N.J., single sign-on provides noticeable financial benefits by cutting software licensing costs. The technology automatically logs users out after a specified period of time, drastically reducing concurrent logins. 
That, in turn, saves the organization more than $150,000 annually, CIO Frank DiSanzo says.
"In the past you might have one doctor with three active sessions going at once," he says. 
"Now, they are logged out, but logging back in is so quick that the doctors don't mind. They love coming in and knowing that they can go right into the applications they need the most," DiSanzo says. 
Indeed, single sign-on can change clinicians' perceptions of technology deployment and IT departments as a whole, says Paul Pitcher, director of research for KLAS.
"The IT department has a bad rep among clinicians," Pitcher says. "Single sign-on is one of the few instances where tech is a clear win for the clinicians. It supports their ability to adopt electronic health records as well as password management, automating everything. And it creates an environment where clinicians have more streamlined workflow while simultaneously ensuring compliance."
Shawn Henry
More On