3D Printing Partnerships Take Physician Resources, Patient Care to the Next Level
Customized equipment and exact organ replicas are improving surgery and treatment, and allowing patients to live fuller lives.
With the ability to produce everything from pancakes to airplane parts, 3D printing is certainly in vogue.
While industry growth is slowing — a recent Wohler's Report flagged the 3D printing industry as raking in $6 billion in revenue in 2016, a slowdown in growth from the previous years — price drops and partnerships mean the technology is poised to begin making real differences in the healthcare field.
The VA Customizes Care With 3D Printing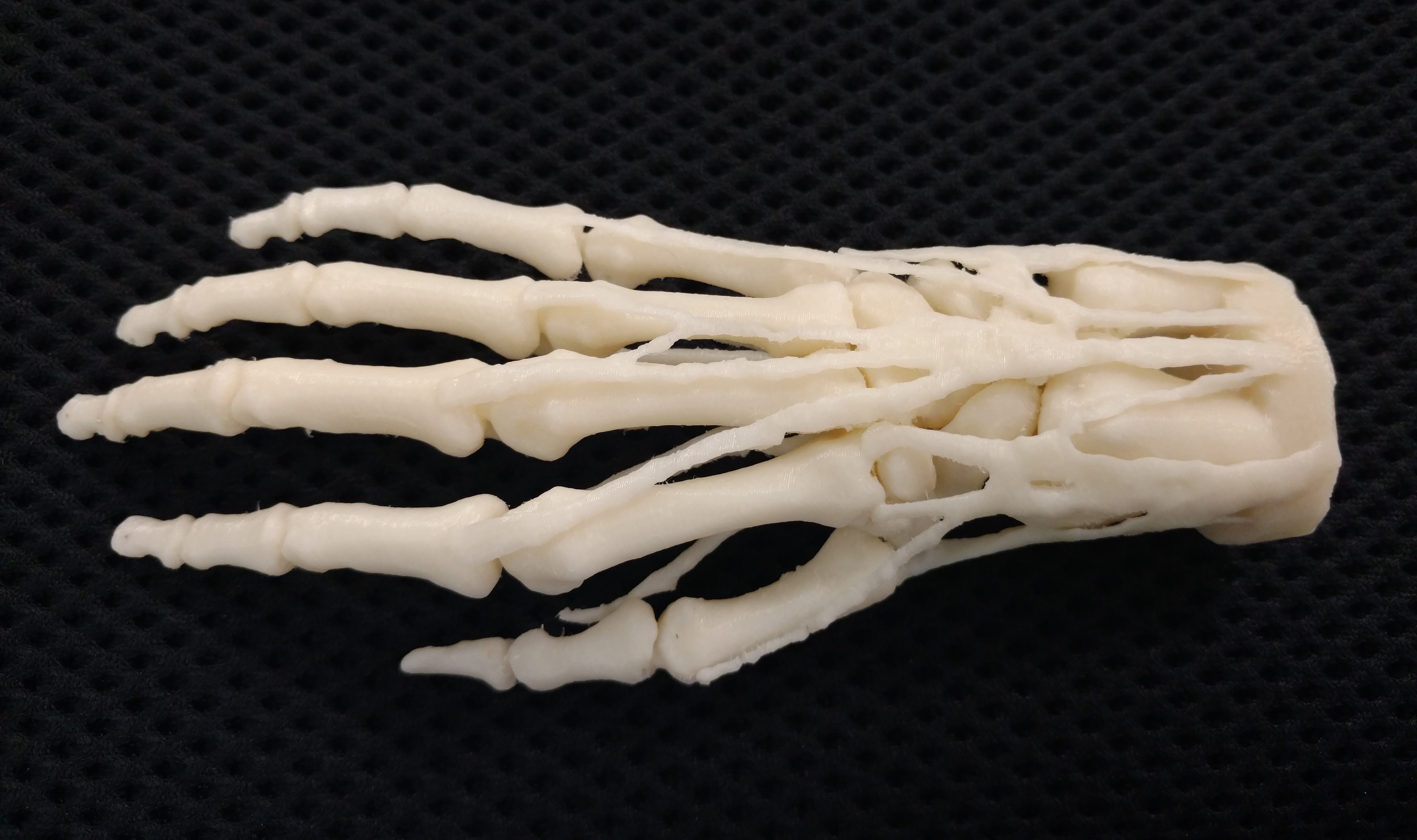 3D printed hand model for teaching, diagnosis, procedural planning. Photo: Business Wire
A new collaboration between the Veterans Affairs Department and 3D printing and additive manufacturing solutions company Stratasys aims to develop a 3D-printing hospital network, which promises to expand the impact of this technology.
Per the agreement, Stratasys is equipping five Veterans Affairs hospitals in the U.S. with 3D printers, materials and training with the aim to encourage the development of "custom orthotics, prostheses, and anatomical models for personalized healthcare," according to a press release. By enhancing access to 3D printing, the network is designed to have a positive impact on doctor preparedness, surgical collaboration and, in turn, patient care and more streamlined costs.
"The overarching vision for 3D printing is universal availability at all 168 VA hospitals across the country —  accelerating development of personalized healthcare, tools and technologies for veterans and their families," Beth Ripley, a staff radiologist at the Seattle division of the VA Puget Sound Healthcare System, said in a blog post.
The VA has already introduced 3D printing on a smaller scale at several of its locations, including McGuire VA Hospital in Richmond, Va. Rehab engineers at the hospital are printing 3D custom devices, such as bikes or iPod mounts, that allow patients to reach their full potential and live more independently than traditional equipment may allow.
"There are too many options. There are so many variables, so we have to really key in on what do and what [the veterans] want, what's their situation, and what's their medical condition," Rehab Engineer Brian Burkhardt said in a blog post for the VA Innovation Center (VACI). The new collaboration will look to expand on these initiatives and introduce customized equipment as well as 3D printed models of organs to allow surgeons to look into the unique anatomy of each patient.
Printed Organs Enhance Distinctive Surgeries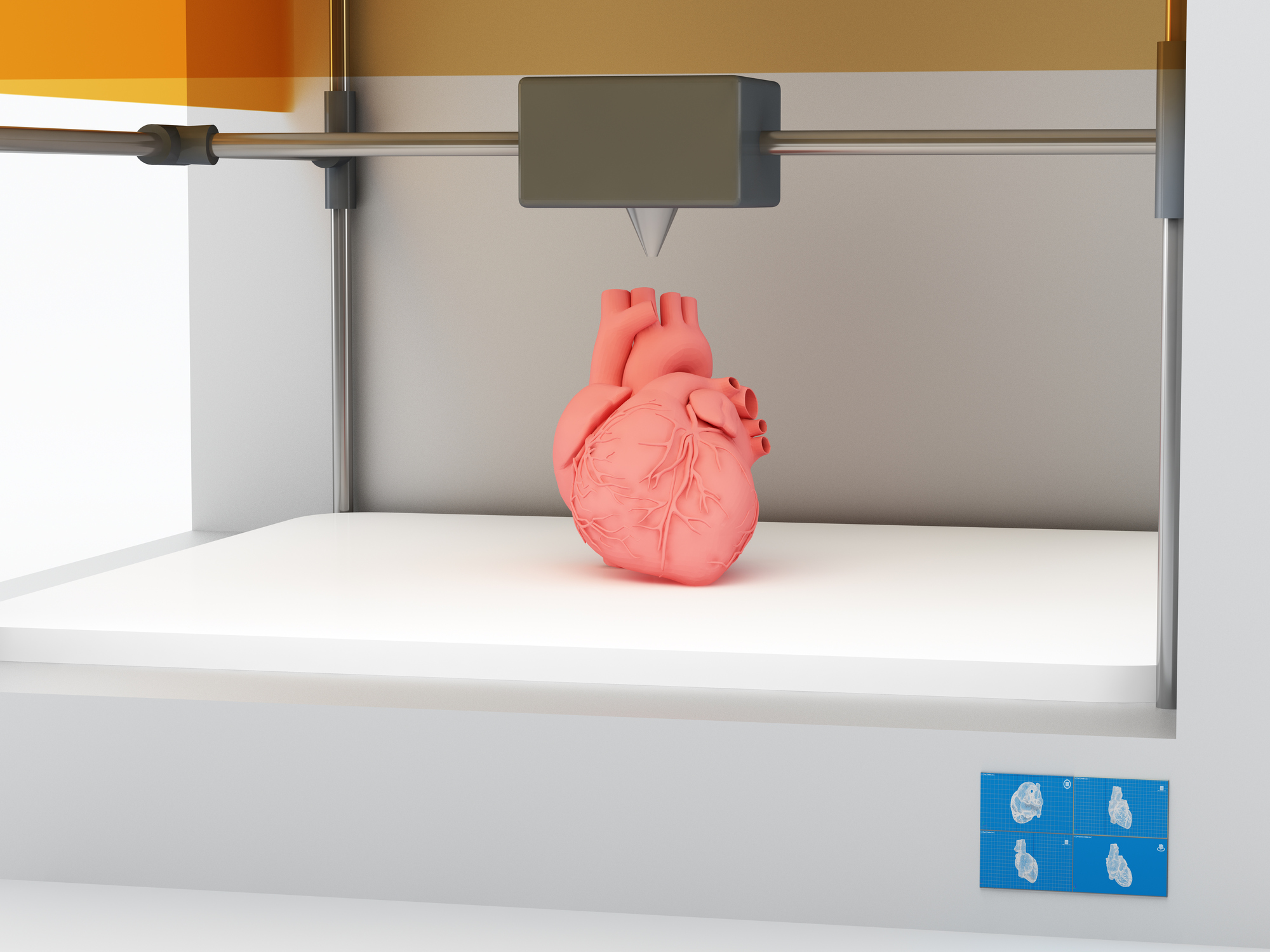 3D printed heart. Photo: belekekin/Thinkstock
Construction machinery manufacturer Caterpillar (CAT) and OSF Healthcare in Illinois have already launched a partnership aimed at helping doctors perform complex heart surgeries by modeling a patient's heart using 3D printing.
Matthew Bramlet, a pediatric cardiologist at Children's Hospital of Illinois, worked with the National Institute of Health on its 3D Heart Library and 3D Print Exchange, which digitally reproduced 3D models of children's hearts for surgical planning. But he found that the digital repositories and limited 3D-printing capabilities in house sometimes did not go far enough.
He tells Design News that the collaboration with Caterpillar's advanced 3D-printing facilities recently allowed doctors to create an exact replica of a heart to plan for a complex heart surgery around a congenital heart defect. The doctor was able to practice the surgery the night before to plan accordingly.
"Since each patient's congenital defect and anatomy is unique, having the ability to utilize a tool such as this prior to the actual surgery is a great asset," Mark Plunkett, a medical doctor and pediatric cardiothoracic surgeon at Children's Hospital of Illinois who performed the surgery, tells Design News. "I was able to remove part of the muscle in the heart and actually see the result by cutting into the model. The ability to do this expedites the operation by shortening the cardiopulmonary bypass time, the time the heart is stopped, and the length of the overall procedure."
Thanks to the 3D model, the patient made a rapid recovery with a shortened hospital stay.
kynny/istock/Thinkstock