HealthTech Provides Mission-Critical Information for Hospital Leaders
From cyberthreat protection to patient care innovation, HealthTech is a must-read for the industry.
As an industry, healthcare technology is in a constant state of flux. For hospital and health system leaders, information on how to keep pace can mean the difference between poor care delivery and satisfied patients; cost savings and overspending; potentially, life and death.
That's why we're launching HealthTech.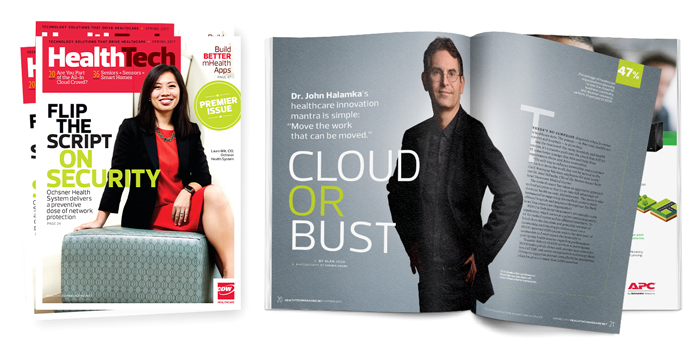 The newest member of the CDW magazine brand family will focus on sharing in-depth stories about the who, what, when, where, why and how that play a role in mission-critical healthcare technology deployments.
We'll offer big-picture insights and trends, along with in-the-weeds expertise, product reviews, tips and best practices — all with an eye toward helping you do your job better and more efficiently.
We will always strive to provide up-to-date information on the latest technology and healthcare delivery trends, as well as need-to-know advice when it comes to cybersecurity threats and government decisions that impact day-to-day IT delivery and support.
Unflinching Eyes on Quality
We understand that seeing is believing. We'll take you inside organizations and introduce you to IT decision-makers, specialists and technologists who understand that the goals outlined by the Institute for Healthcare Improvement's Triple Aim — boosting the individual experience of care, improving the health of populations and reducing the costs of care — are more than just words. Truly, technology serves as the keystone of such goals, especially as federal policy shifts to reward value over volume. The need for providers in multiple locations to collaborate both seamlessly and securely remains critical. We will bring these stories to life, quarterly in print, twice a month in our e-newsletters and daily online at HealthTechMagazine.net.
In this, our inaugural issue, you'll learn how Ochsner Health System secures its electronic information from an onslaught of constantly evolving cybersecurity threats. Leaders at Houston Methodist discuss the back-end technology supporting their massive new electronic health record system deployment, connecting more than 1,100 beds and 67 operating rooms across eight hospitals and 150 practice locations. You'll also learn more about how virtual reality enhances education for medical students.
We want to ensure that we continue to bring you the information you're looking for to advance your organization's technology mission. You can subscribe to our print magazine or our e-newsletter at healthtechmagazine.net/subscribe. Please let us know what you think, and what you'd like to see more of. As always, we're here to help.
More On