Providers Perfect Traffic Patterns with Network Monitoring Software
Healthcare organizations track application use to cut bottlenecks and maximize uptime.
About a year ago, Medical Center Health System in Odessa, Texas, expanded its digital environment to provide a flexible, more mobile-friendly experience for clinicians. The organization installed a cloud-based electronic health record system, and upgraded its wireless infrastructure to accommodate increased use of mobile and Internet of Things devices.
As part of the upgrade, MCH Director of IT Operations Brad Shook knew he also needed to make network monitoring a high priority.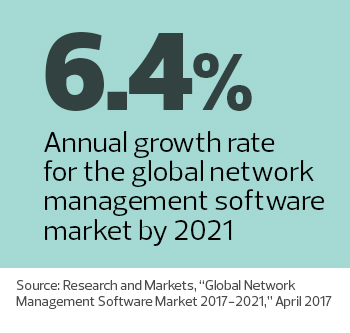 "Hospitals depend on their networks to treat and provide high-quality service to patients, and we really can't afford any downtime," Shook says. "Our goal is 100 percent uptime."
To bolster its network monitoring and management capabilities, the organization turned to an array of Aruba solutions, including AirWave, ClearPass Guest and ClearPass Policy Manager. AirWave, in particular, allows Shook to track both overall and specific app use, as well as which tools take up the most bandwidth.
"In the past, I would only know if an access point went down if a user complained," he says. "Now, I receive pro-active alerts and can reset the AP on the centralized dashboard. I can also find devices on the network that are acting up and learn more about what's causing an issue."
As healthcare organizations expand their digital arsenals, IT leaders increasingly are prioritizing constant and thorough network application monitoring.
SIGN UP: Get more news from the HealthTech newsletter in your inbox every two weeks
Networking Monitoring Software Offers Insights into Anomalies
Like MCH, St. Anthony's Medical Center, an affiliate of Mercy in St. Louis, uses a mix of tools to monitor its network.
Chris Marr, IS technical services manager, says St. Anthony's uses a security information and event management tool to sift through event logs and examine trends in the network's traffic.
The hospital also uses software from SolarWinds to monitor all the network's devices. The system identifies network anomalies, such as a device suddenly reporting abnormal activity.
"It even shows when normal conditions change and activity on a device picks up," Marr says. "It aggregates data from all our devices and brings the information into a single pane of glass."
To monitor its VMware ESX hosts and virtual machines, St. Anthony's relies on Turbonomic software.
"Our focus on monitoring has evolved over the past couple of years," Marr says. "It's become more and more obvious how much we really need this capability. In today's connected world, where organizations face attack vectors from every angle, it's become a requirement to have the proper monitoring and logging in place."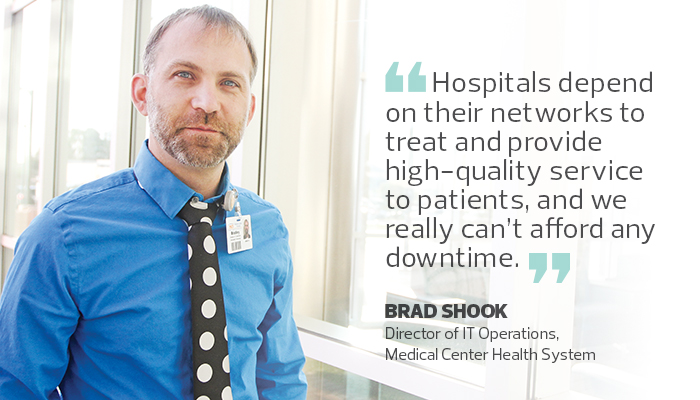 Beaufort Memorial Hospital in South Carolina installed Turbonomic software two years ago to gain better insight into its virtual desktop infrastructure traffic.
"Especially during spikes, we would find it hard to keep up," says Jonathan Brown, a server administrator at Beaufort. "This shows us how to right-size the machines and offers recommendations for things like CPU usage."
Beaufort also measures traffic on its server clusters. Like most other hospitals, Brown says, it simply can't afford downtime.
Healthcare Organizations Take Action Against Network Bottlenecks
At MCH, Aruba's ClearPass Guest and Policy Manager tools allow Shook to set up access levels based on a user's importance to the hospital's network. They also allow him to prevent activities that could negatively impact network performance, such as unauthorized video streaming.
Shook also has been able to reduce the number of service set identifiers the hospital manages. For example, MCH no longer uses a separate SSID for each device in the hospital; instead, it needs just two: one for the guest network and another for the internal network. AirWave lets him set up the hospital's IoT devices, like X-ray machines and IV pumps, on a separate virtual LAN that is able to communicate with a specific server.
"IoT devices, such as pumps, have been very vulnerable at hospitals because they are not upgraded as frequently as standard computers, so it was easier for hackers to find a vulnerability," Shook says. "Once these devices are set up on a separate VLAN, it's less likely that they will be hacked and disrupt our operations."
Rogotanie/Getty Images
More On